A bomb ripped through a bus at rush hour in the southern Russian city of Tolyatti on Wednesday killing eight people and wounding 50, prosecutors said.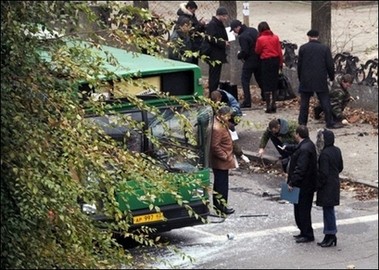 Police investigators check the scene where a bomb ripped through a bus at rush hour in the centre of the southern Russian city of Tolyatti. (AFP Photo)
Vladimir Artyakov, governor of the Samara province, said a terrorism investigation had been opened after the powerful explosion. Other explanations were also being looked at but were considered less likely, officials said.
The blast struck residents heading to work and to nearby university buildings early in the morning at a busy junction in the centre of the city, which is synonymous with Russia's car industry.
Fragments of glass and metal scattered far from the green bus and the shock wave blew out the windows of a nearby residential block.
A prosecutor's spokesman, Vladimir Markin, confirmed on national television that eight people had been killed and 50 injured. The latter were distributed among all four city hospitals.
A medical source told reporters that three children were among the hospitalised, while several of the injured were suffering burns.
A spokesman for Artyakov, who was visiting the injured in hospital, said the blast had caused shock among residents of the city who were not used to such attacks.
"There hasn't been anything of this sort in Samara province before, no explosion of a bus," the spokesman, Ivan Skrylnik, told AFP.
It was the second blast on a bus in Russia in just over a week, following an explosion that killed one person and wounded five in the turbulent province of Dagestan on October 23.