A Russian Soyuz capsule carrying US millionaire video game guru Richard Garriott, the world's sixth space tourist, and two Russian cosmonauts, landed in Kazakhstan as scheduled, the Russian mission control center said early Friday.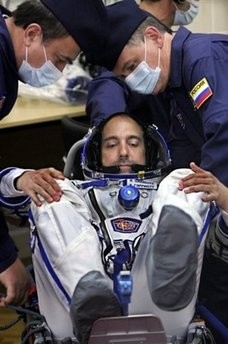 US space tourist Richard Garriott is helped putting on his space suit at the Baikonur cosmodrome, in Kazakhstan, on October 12.
The team reported that they felt fine," the mission control's spokesman Valery Lyndin told AFP, adding that a helicopter accompanied the capsule as it landed.
Garriott and cosmonauts Sergei Volkov and Oleg Kononenko landed in Kazakhstan's steppe at 0734 Moscow time (0334 GMT) and were shortly to be extracted from the capsule.
The 47-year-old US space tourist, who has called his journey into orbit a lifelong dream, created the Ultima series of computer role-playing games in the 1980s and later earned millions of dollars as a video-game entrepreneur.
Garriott is the son of former US astronaut Owen Garriott, who in 1973 spent two months aboard Skylab, the first orbiting space station.