Russian President Dmitry Medvedev exposed his softer side Thursday during a visit to the United States, pouring praise on counterpart Barack Obama and saying love was paramount.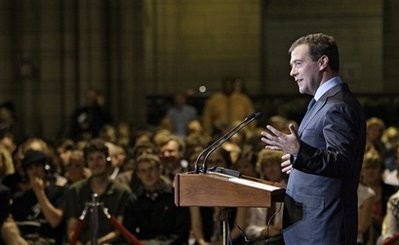 Russian President Dmitry A. Medvedev speaks at the University of Pittsburgh's Cathedral of Learning, Thursday, Sept. 24, 2009, in Pittsburgh. (AFP Photo)
Fifty years after Soviet leader Nikita Khrushchev first addressed the University of Pittsburgh, Medvedev gave a frank and endearing answer when one student asked him what he thought was the most important thing in life.
"Love. What can be more important?" Medvedev said. "Love for your family, for those who surround you. It's the sense of life."
Medvedev, who was attending the Group of 20 summit of the world's leading developed and emerging economies, signalled that Russia and the US really had turned the page in international relations.
"We are learning to listen to each other," Medvedev said of his rapport with Obama, hailing the US president's recent announcement to scrap a Bush-era missile plan for Eastern Europe a "courageous decision."
"I tried to put myself in his place and want to say that it would be a difficult decision," Medvedev said, under the soaring arches of the university's Cathedral of Learning, a Pittsburgh landmark.
"Changing a decision of the previous administration relating not to domestic but foreign policy is a complicated decision."
The Obama administration delighted Russia earlier this month by scrapping the missile shield, the brainchild of former president George W. Bush.
Students in the audience said after hearing Medvedev they believed the reset in Russian-US ties might be for real this time.
"He seems to have a lot of respect for our president, which is important to me," said Alicia Salvadeo, a 19-year-old majoring in history and creative writing.
Another student, Angela Bradshaw, said the mere fact Medvedev had taken the time out of his busy agenda to talk to the students meant he was sincere in his desire to improve ties.
"I have not seen any other G20 leaders taking time to talk to us," said Bradshaw, who was also 19.
In an hour-long question-and-answer session with students, Medvedev fielded questions on his future plans, Russia's thorny relations with ex-Soviet republics Georgia, Ukraine and Belarus and reform of the United Nations.