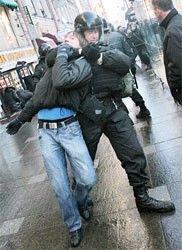 Russian policeman arrests a nationalist protestor during a rally marking National Unity Day in St. Petersburg, Nov. 4, 2006 (AFP Photo)
Russian nationalists and neo-fascists rallied in Moscow and across Russia Saturday to mark National Unity Day in what they billed as a show of force by the country's rising anti-immigrant movement.
More than 1,000 people calling for restraints on immigration and special privileges for ethnic-Russians converged on a square near central Moscow's Park Kultury in the face of a huge police presence.
Some activists gave Nazi-style salutes, while others waved Russian Orthodox church symbols and icons.
"We demand to be rid of illegal immigrants. They are taking our jobs, bringing drugs and terrorism," Irina Saveleva, a parliamentary deputy from the nationalist Rodina party, told the crowd.
November 4 officially celebrates the liberation of Moscow from Polish invaders in 1612 by groups of Russian volunteers who joined forces in the capital.
President Vladimir Putin laid flowers at a monument to the battle on Red Square, while Orthodox Patriarch Alexei II called on the country to show unity.
However, ultra-nationalists seized the occasion to mount protests in several major cities, including the far eastern city of Vladivostok and the country's second city, Saint Petersburg.
Nationalist groups, such as the Movement Against Illegal Immigration, appear to be successfully tapping into growing fears that native Russians are losing out, especially economically, to the hundreds of thousands of immigrants who come to the country every year.
Human rights monitors and Russia's small number of liberal politicians frequently accuse the authorities of playing the race card to boost loyalty toward the government. About 250 people gathered Saturday across the river from the Kremlin in what they described as an "anti-fascist" meeting meant to counter the ultra-nationalist rally.
However, the authorities had made it clear well in advance of Saturday that an openly racist rally, like one that took place on the same day a year ago in Moscow, would not be tolerated.
An application by the well-organised Movement Against Illegal Immigration to hold its own rally in Moscow was turned down, while the sanctioned protest near Park Kultury took place under unusually heavy police guard.
Riot police, backed by interior ministry soldiers turned out in force. Dozens of troop trucks were visible, as well as enclosed trucks used for carrying prisoners.
Helmeted riot police surrounded the nearest underground train station and also stood close to the protest itself.
Police could be seen searching dozens of people. The Moscow police department said that 37 people had been arrested, mostly for minor violations, state-run RIA Novosti news agency reported.
In Saint Petersburg, about 200 people gathered, shouting "long live Russia!"
However, police blocked them from staging a march and 12 people were arrested after trying to enter the main Nevsky Prospect. An AFP photographer was also detained while working at the scene.