Russian oil shipments to Europe through Ukraine will continue without disruption as the two countries renegotiate their transit agreement, Russia's Deputy Prime Minister Igor Sechin said Tuesday.
"We expect that there will be no problems with the transit," Sechin was quoted as saying by the RIA Novosti news agency.
Ukraine said Monday it wanted to change the terms of the deal, signed in 2004, under which Russia ships oil through Ukrainian territory to the EU.
Ukraine had sought and obtained an increase in the tariffs Russia pays to transit its oil through Ukrainian pipelines, but the two sides had still not agreed on how much oil -- subject to those tariffs -- Russia would "guarantee" to pump through Ukraine, officials said.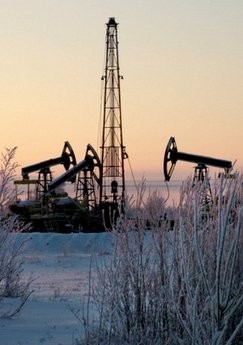 File photo of a Russian oil well outside Nefteyugansk, western Siberia
Sechin said Russia was still negotiating with Ukraine on the final terms of the new deal.
Disputes between Russia and Ukraine on pricing and transit of Russian natural gas shipped to EU clients have caused serious supply disruptions in recent years, but Ukrainian officials gave assurances that transit would continue even if talks were not concluded by the end of the year.
EU sources in Brussels also played down fears of another looming energy dispute between Russia and Ukraine that could have an impact on EU energy supplies.