Russian Prime Minister Mikhail Fradkov on Tuesday met with Japan's emperor at the start of a visit expected to focus on Tokyo's push to secure Russian gas.
Fradkov came here one day after Russia's energy minister, Viktor Khristenko, who reassured Japan that Russia will continue to supply gas, even though the Kremlim took control of a major project in Siberia.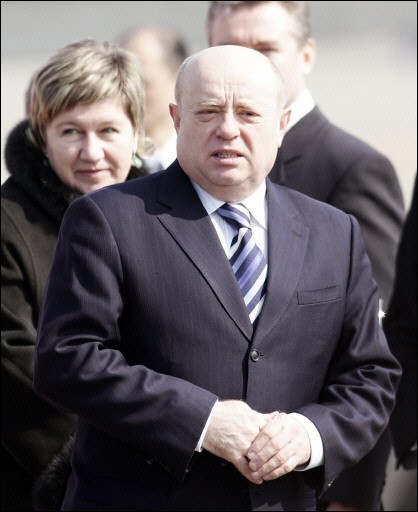 Russian Prime Minister Mikhail Fradkov, arrives at the Tokyo International Airport.
Fradkov had an audience Tuesday afternoon with Emperor Akihito and Empress Michiko before talks with Yohei Kono, speaker of the lower house, officials said.
He will meet his Japanese counterpart Shinzo Abe on Wednesday and will also take part in a forum on investment in Russia.
Japan is almost entirely dependent on imports for its oil and gas needs and is set to be the main market for the giant Sakhalin-2 gas project, of which Russian monopoly Gazprom took majority control in December.
The Sakhalin project was originally led by British-Dutch group Shell in a consortium with Japan's Mitsui and Mitsubishi trading houses. The three companies remain minority shareholders.
Japan and Russia have yet to sign a peace treaty formally ending World War II due to a dispute over four islands seized by Soviet troops days after Tokyo surrendered in 1945.
The Nikkei business daily said Tuesday the two prime ministers were expected to sign a nuclear energy accord in which Russia will enrich uranium for Japan to use in power generation.
Japan relies on nuclear power for 30 percent of its energy needs but enriches little uranium due to public concerns about safety.
Russia would become the third country after Britain and France to which Japan sends spent nuclear fuel for uranium enrichment.