A Russian rocket set to carry a three-person U.S.-Russian crew to the international space station has been moved to a launch pad in preparation for blastoff.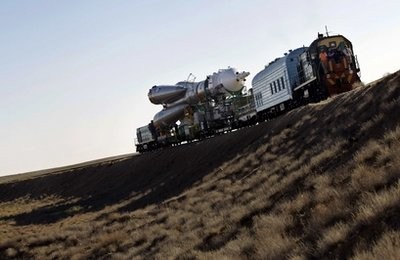 The Russian Soyuz TMA-19 space ship that will carry new crew to the international space station is transported from a hangar to the launch pad at the Russian leased Baikonur Cosmodrome, Kazakhstan
The rocket will carry U.S. astronauts Douglas Wheelock and Shannon Walker and Russia's Fyodor Yurchikhin to the international orbiting laboratory on Wednesday for a mission lasting about six months.
Under the Central Asian sun, a train carrying their Soyuz booster rocket trundled Sunday through tinder-dry steppe on its way to the launch pad known as Gagarin's Pad. It is the site from which the Soviet Union sent off Yuri Gagarin in 1961 to become the first human in space.
U.S. reliance on the venerable Soyuz rocket is set to increase from next year with the shuttle program coming to an end.