Russians voted Sunday in a parliamentary election set to hand President Vladimir Putin's party a huge majority and bolster his bid to retain influence after leaving the Kremlin.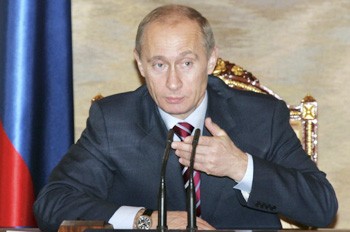 Russian President Vladimir Putin speaks during a meeting of the Security Council in Moscow, Nov. 01, 2007.
As its lead candidate, Putin has said a convincing victory for United Russia would give him a "moral mandate" to influence the government once he steps down after presidential polls in March next year after eight years in power.
"I'm not worried Putin has to step down," said Alexander Boiko, a 52-year-old plumber, after voting for United Russia in a Vladivostok polling station overlooking the Sea of Japan.
"He's part of United Russia and they'll still be there so what's the difference."
Opinion polls predicted United Russia would win at least 62 percent of the vote, securing them a large majority of the 450-seat lower house, the State Duma, with the Communist Party trailing far behind with some 12 percent.
The first votes were cast on Russia's Pacific coast at 8 am Sunday (2000 GMT Saturday) with early results expected 22 hours later after the final polling stations close in the Baltic Sea enclave of Kaliningrad at 8 pm on Sunday (1800 GMT).
With their domination of the legislature all but guaranteed, United Russia cast the elections as a referendum on Putin's rule, saying that a vote for the party would safeguard the country's oil-driven economic boom and stability.
"I'll vote for United Russia. They've done a good job, everything is getting better," said Vladimir Babikov, a 19-year-old conscript sailor shifting to keep warm in the biting sea breeze as he queued to vote near Vladivostok harbour.
Putin and his Kremlin allies are hoping that a strong victory coupled with a high turnout in Sunday's polls will give them a free hand to lay the groundwork for the presidential vote, analysts say.
"The result of the parliamentary elections will, without a doubt, set the tone for the elections for a new president," Putin said in a televised address on Thursday.
In the final days of campaigning, Putin appeared to confirm that he would not stand in that election, but whether he plans to anoint a successor, perhaps temporarily while he prepares a return to the presidency, remains unclear.
The United States on Friday said it would be watching closely as the 109 million Russians eligible to vote cast their ballots in the country's fifth election since the 1991 collapse of the Soviet Union.
Some 450,000 police officers will be on duty across the country on Sunday to ensure order as voters flock to the 95,000 polling stations.
Most of the country's top politicians were to vote in Moscow, where polls were due to open at 0500 GMT Sunday.