Casinos and slot-machine halls shut down across Russia as a new law took effect that put sweeping new restrictions on the country's formerly boisterous gaming industry.
Tens of thousands of people were expected to lose their jobs as a result of the law, which was signed in 2006 by then-president Vladimir Putin in a bid to halt the spread of gambling addiction.
"The casino is closed in accordance with the law," said a sign on the Koron casino on Novy Arbat, a street in central Moscow that had been called Russia's Las Vegas because of its gaudy casinos decorated with large neon signs.
Meanwhile workers hauled slot machines wrapped in plastic out of the nearby Metelitsa casino.
Other casinos were expected to refashion themselves into poker clubs under a quirk of Russian law that officially recognises poker as a sport rather than a game of chance.
Moscow authorities set up a special task force to ensure compliance with the law, which inspected over 500 gambling venues in the Russian capital overnight, said Leonid Krutakov, a spokesman for the Moscow city government.
"All of them are closed in compliance with the federal law," Krutakov was quoted as saying by RIA-Novosti news agency.
"Law-enforcement agencies will stop attempts at illegal activity, and organizers of the gaming business will answer to the law. We will not allow gambling addiction to continue damaging the social health of Muscovites."
The law marks the end of era that began in the 1990s, when businessmen and gangsters who acquired fantastic wealth in Russia's post-communist turmoil gambled it away in lavish casinos in central Moscow.
Gambling establishments, from seedy slot-machine parlours to extravagant casinos for the new rich, seemingly popped up overnight after the Soviet Union collapsed in 1991.
But Putin, who once called gambling addiction "even stronger than addiction to alcohol," put a stop to the practice with a law that literally exiles casinos to Siberia.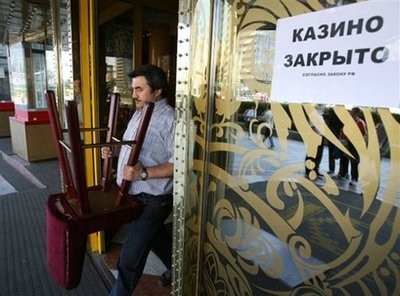 A man carries a chair out of a shut down casino hall in central Moscow on June 30.
Starting July 1 casinos may only operate in four remote regions of Russia, each of them at least 1,000 kilometres (600 miles) from Moscow.
The four designated legal gambling zones are in Russia's western Kaliningrad exclave; along the Azov Sea in the south; in the Altai region of Siberia; and in the far eastern Primorye region, near North Korea and Japan.
But the gaming industry has been reluctant to move there, given the regions' undeveloped infrastructure and difficulty of attracting customers to the far-flung locations.
The gambling law is expected to have the biggest impact on Moscow, which had 524 casinos and gaming halls before the law took effect, and Saint Petersburg, which had 109.
That has raised concerns about the impact of job losses just as Russia has been badly hit by the global economic crisis.
But Sergei Kakeyev, a 24-year-old security guard watching the casinos being dismantled on Novy Arbat, said he approved.
"They did the right thing. Many of my friends gambled, though I didn't get excited by that," Kakeyev told AFP. "They lost a lot of money."