SINGAPORE, Nov 15, 2009 (AFP) - Russian President Dmitry Medvedev on Sunday warned Iran it could face new sanctions if there is no progress in the deadlock over its nuclear programme.
Medvedev said after talks with President Barack Obama that neither he nor the US leader were satisfied with the pace of the process, as Tehran drags its feet over its response to a UN-sponsored deal.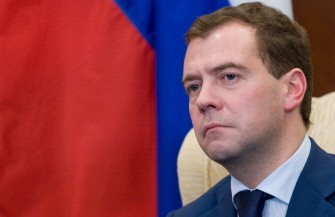 Russian President Dmitry Medvedev listens during meetings with US President Barack Obama (not pictured) in Singapore, site of the APEC summit, November 15 (AFP photo)
"Our goal is clear, it is transparent" he said. "We are prepared to work further" to ensure Iran's nuclear programme is only for peaceful purposes, he said.
"In case we fail, the other options remain on the table, in order to move the process in a different direction," he said in reference to new sanctions against Tehran.
Obama described as "fair" the proposal offered to Iran which would see states including Russia help Tehran enrich uranium.
"Unfortunately, so far at least, Iran has been unable to say yes," he said. "We now are running out of time with respect to that approach."
Obama, who needs Russia's help to break the stand-off over Iran's nuclear ambitions, exchanged a warm handshake with Medvedev at the conclusion of the talks.
"I have found, as always, President Medvedev frank, constructive and thoughtful," he said. "The reset button has worked," he said.
Russia has the strongest ties with Iran of any major power, and its capacity to provide technical help for the Iranian nuclear drive is seen by some analysts as giving it unmatched leverage in Tehran.