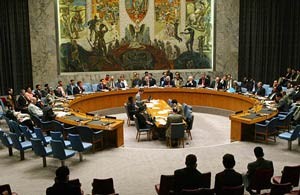 Russian refuses to discuss sanctions on Iran at UN Security Council
Moscow said it was "categorically" opposed to the use of force to keep Iran's nuclear program in check and vowed it would pursue plans to sell sophisticated conventional weapons systems to Tehran despite US objections.
"Sanctions can be discussed only when there are concrete facts showing that Tehran's nuclear activity is not exclusively peaceful," Russian foreign ministry spokesman Mikhail Kamynin told reporters.
Another official, deputy foreign minister Sergei Kislyak, said: "We are categorically against use of force on this question and all our work will be based on this," according to news agencies.
That comment came two days after US President George W. Bush refused to rule out military action against Iran, saying that "all options are on the table."
The deputy head of Russia's security council said Moscow saw no reason to halt conventional weapons deals with Iran as sought by the United States as long as the International Atomic Energy Agency (IAEA) was investigating Iran's nuclear ambitions.
IAEA chief Mohamed ElBaradei was to report on that investigation to the UN Security Council by April 28.
"There are no circumstances that raise obstacles to fulfillment of our obligations in military technical cooperation with Iran," Spassky was quoted by Russian news agencies as saying.
"This means fulfilling all obligations, including obligations on delivery to Iran of the Tor-M1 air defense system," Spassky said.
That was a direct response to a call Wednesday by US Under Secretary of State Nicholas Burns for Moscow to cancel the Tor-M1 deal, signed in December and reported to be worth 700 million dollars.
"No country should sell arms to a regime like that," Burns told reporters Wednesday. "It would be logical for that arms sale not to go forward."
Spassky admitted Russia, which is helping Iran build its first nuclear power station, had questions about aspects of Iran's nuclear work.
He issued a stern call on Tehran to work with the IAEA to answer those questions to the world's satisfaction and said Iran "must fulfill a range of additional obligations" to do so.
Russia's proposal to enrich uranium for Iran to use as nuclear fuel however remained on the table and should be considered a way of "assisting" Iran until all questions about its nuclear intentions were cleared up, he said.
"At the end of this period, Iran can return to its full rights in the nuclear energy sphere," Spassky said.
He said Moscow however believed that "there is still a chance, a normal, solid chance, for a peaceful diplomatic resolution of the Iranian nuclear problem."
The United States accuses Iran of hiding a nuclear weapons program behind its atomic energy work, a charge Tehran denies. Washington, backed by its European allies, has been pushing for quick and firm action to curb Iran's nuclear work, but Russia and China are resisting this push.
Top diplomats from the UN Security Council permanent members held talks in Moscow on the Iran impasse on Tuesday. They agreed Tehran's nuclear work was a worry, but remained divided on tactics to address it, officials from the participating countries said.
Source: AFP