South Korea's central bank Thursday kept the key interest rate unchanged for August at 3.25 percent for the second straight month as global economic uncertainties overwhelmed inflation woes.
The Bank of Korea (BOK) held steady the benchmark seven-day repo rate, the rate at which the central bank lends to commercial banks, at 3.25 percent for August.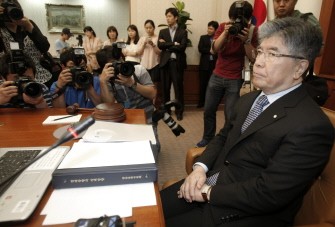 Kim Choong-soo, governor of the Bank of Korea, sits to preside over a meeting to decide a benchmark call rate at its headquarters in Seoul on August 11, 2011.
Analysts said fears of a US economic downturn and Europe's debt woes prevented the central bank from hiking the rate despite mounting inflationary pressure.
Consumer prices rose 4.7 percent in July from a year earlier, quickening from 4.4 percent growth in June.
"Last week's US credit rating downgrade and jitters in global financial markets seemed to warrant a rate freeze this month," Ma Ju-ok, an economist at Kiwoom Securities Co, said before the decision.
"It may be difficult for the key rate to reach beyond 3.5 percent by year-end," he told Yonhap news agency.
Shin Dong-Jun, a fixed-income analyst at Dongbu Securities Co, said growing economic uncertainties are raising downside risks.
"An economic slowdown and a fall in oil prices would ease inflationary pressure, so the BOK is likely to freeze the key rate through the end of this year," Shin said.