SEOUL, April 5, 2011 (AFP) - South Korea has questioned Japan about its decision to pump radioactive water into the ocean to help stabilise a crippled nuclear plant, the foreign ministry said Tuesday.
Japan on Monday started to dump more than 10,000 tons of low-level radioactive water into the Pacific to make space for run-off from water used to douse overheating fuel rods at its Fukushima plant.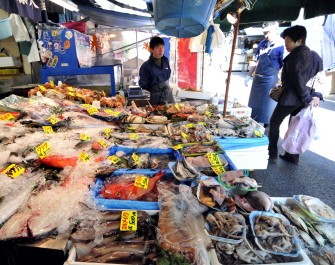 AFP - Various kind of fish are displayed at a fish shop in Tokyo on April 5, 2011.
A massive earthquake and tsunami on March 11 shut down cooling systems at Fukushima, causing the rods to overheat dangerously.
Seoul's embassy on Monday asked Japan's foreign ministry about the dumping, said ministry spokesman Cho Byung-Jae.
"It is said to be contaminated water. So, isn't it natural if anyone is a little bit concerned?" Cho said. "However, as we have no scientific data, we sent queries in order to confirm facts."
Japan told South Korea it planned to release the water little by little over the next five days, he said.
Yonhap news agency earlier quoted an unidentified foreign ministry official as saying the proximity of the two neighbours made Japan's action "a pressing issue" for South Korea.
Tokyo Electric Power Company (TEPCO), operator of the disaster-stricken plant, said the release of the water -- the equivalent of more than four Olympic-sized swimming pools -- would not harm marine life or seafood safety.
But the operation fuelled concern in neighbouring South Korea, where traces of airborne radioactive material had earlier been detected. These were said to be too minuscule to pose health risks.
South Korea's food safety agency on Tuesday announced a temporary ban on farm produce from Japan's Chiba prefecture, following its earlier ban on food imports from four other prefectures in the northeast.