South Korean religious leaders left Wednesday for a rare joint visit to North Korea, saying they want their trip to the communist country to ease high cross-border tensions.
Among the 24-member delegation were heads of seven major religious groups including Roman Catholics, Protestants and Buddhists.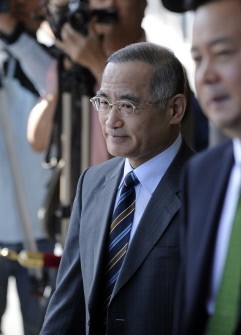 South Korea's chief nuclear envoy Wi Sung-Lac leaves his hotel for a meeting with his North Korean counterpart Ri Yong-Ho in Beijing on September 21, 2011
During their four-day stay they are scheduled to hold joint services and other events with their counterparts.
"We hope to convey our aspiration for peace to North Korea," they said in a joint statement read by the Archbishop of Gwangju, Kim Hee-Joong.
Kim said religious leaders of the South and North "hope to contribute, even in small part, to uniting hearts towards reunification and opening a new chapter of reconciliation and cooperation".
Earlier this month, Seoul allowed leading Buddhist monks to visit the North, the first such religious trip since ties turned icy over the sinking of a South Korean warship in March last year.
Seoul accused Pyongyang of torpedoing the warship with the loss of 46 lives.
The North denied involvement but killed four people in a bombardment of a frontier island last November.
In recent weeks, the North has toned down its virulent criticism of the South somewhat. Seoul has made a series of apparent conciliatory gestures, including offering relief aid following floods across the border.
South Korean orchestral conductor Chung Myung-Whun returned last week from a trip to North Korea aimed at promoting cultural exchanges and improving relations.
In Beijing Wednesday, envoys from the two sides were holding talks designed to prepare for a resumption of international negotiations on the North's nuclear weapons programme.