South Korea has signed a 16.6 billion won (US$13.8 million) deal with Hyundai Heavy Industries Co. for the planning of six new naval frigates, the state defense procurement agency said Tuesday, source from the Yonhap.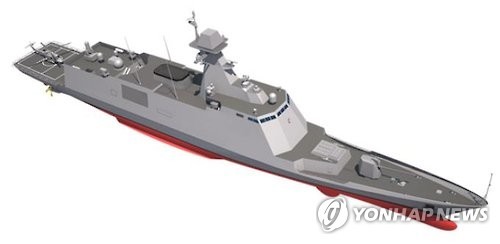 This image provided by the Defense Acquisition Program Administration (DAPA) shows a 3,000-ton frigate that will be built by 2026. (Yonhap)
The Batch-III project calls for the Defense Acquisition Program Administration (DAPA) to inject a total of 2.8 trillion won into the building of six 3,000-ton frigates by 2026. These ships will form an integral part of the Navy's defense strategy.
"Once the planning phase in completed in about two years, we will select the builder through a bidding process," a DAPA spokesman said.
In the Batch-I project, the state defense acquisition agency deployed six frigates. In the Batch-II project, it signed separate deals with Hyundai Heavy and Daewoo Shipbuilding & Marine Engineering Co. to build two frigates each, he said.
The planned frigates will incorporate stealthy elements in their design to greatly increase the survivability and will be equipped with an improved anti-submarine capability and advanced radars, a DAPA statement said.
In recent years, the Navy has stepped up efforts to bolster its anti-submarine capabilities by updating equipment, building new ships and carrying out drills to effectively counter North Korean provocations.
In March 2010, North Korea carried out a torpedo attack on a South Korean ship, which sank off the coast of the northwestern island of Baengnyeong, resulting in the death of 46 sailors.