South Korea will shut down 10 aging coal-fired power plants by 2025 as part of its efforts to cut greenhouse gas emissions and curb fine dust, a related ministry said Monday, according to the Yonhap.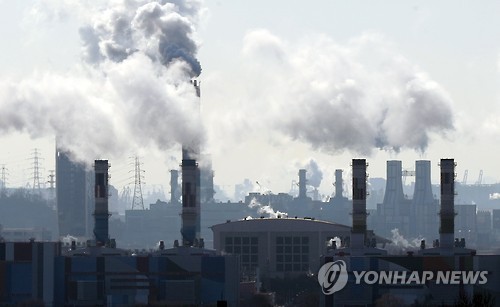 A coal-fired power plant in South Korea in this undated file photo (Yonhap)
The government also plans to replace environmental facilities at 43 other coal plants in the nation in the initiative expected to cost a total of 11.6 trillion won (US$9.67 billion) by 2030, according to the Ministry of Trade, Industry and Energy.
The ministry has signed an accord with five local power plant operators on the project.
It plans to spend 203.2 billion won on the shutting of the old plants.
"It marks the first time that coal power plants in South Korea will be shut down," the ministry said. "It represents a resolve to establish the low-carbon and environment-friendly electricity source."
Among other programs, 9.7 trillion won will be injected into modifying environment-related facilities at the 43 plants.
It will help reduce the amount of pollutants from coal plants from 174,000 tons last year to 48,000 tons in 2030, added the ministry.
"Even if all of the 20 plants currently under construction are put into operation, the total volume of polluting materials will be reduced 50 percent compared with that of 2015," it said. "In the case of South Chungcheong Province, where there are many coal plants, it will be cut by 57 percent."