The defense ministers of South Korea and the United States are set to discuss bolstering their deterrence against potential provocations by the Democratic People's Republic of Korea (DPRK).
Japanese Defense Minister Toshimi Kitazawa and U.S. Defense Secretary Robert Gates met Thursday to talk about a number of issues, including the possible provision to third countries of the U.S.-Japan jointly developed sea-based missile shield system.
Currently a bilateral accord between the two countries prohibits the export of the Standard Missile-3 ballistic missile interception technology to other countries unless Japan consents to it in advance.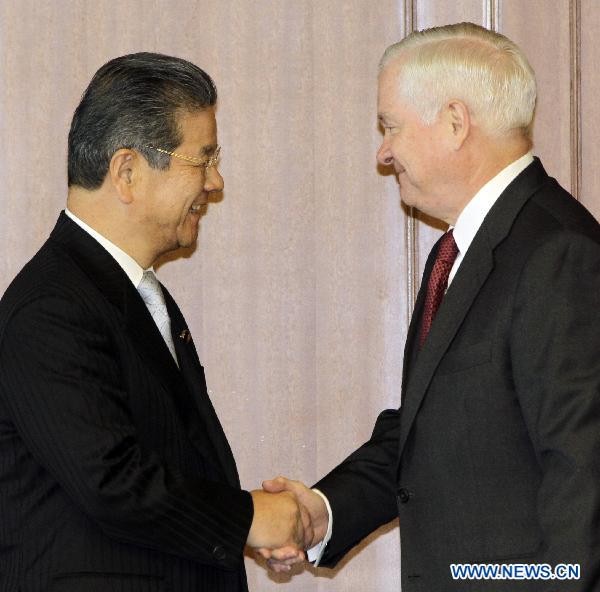 Japanese defense minister Toshimi Kitazawa (L) shakes hands with visiting U.S. Defense Secretary Robert Gates in Tokyo, capital of Japan, on Jan. 13, 2011. (Xinhua)
During their meeting, Gates expressed his concerns to his Japanese counterpart regarding the difficult security situation in the Asia-Pacific area, saying that the U.S. military presence in the Asia-Pacific region has become increasingly important. Kitazawa agreed with Gates on this point.
The two defense chiefs reaffirmed their nations' cooperation in dealing with the Democratic People's Republic of Korea (DPRK) as tensions still remain on the Korean Peninsula.
They also discussed the contentious issue of relocating the U.S. Marine Corps' Futenma Air Station to Nago from the densely populated area of Ginowan, both in Okinawa, southern Japan.
Japan and the U.S. reached an accord in May last year to move the base to a coastal area of Okinawa, but the Japanese government still faces strong domestic opposition to the plan from islanders, many of whom want the base off the island altogether.
On this point Kitazawa and Gates discussed the possibility of transferring drills involving F-15 fighters from Okinawa to Guam, to lighten the base-hosting burden of the local people.
Before he held talks with Kitazawa, Gates also held discussions with Foreign Minister Seiji Maehara. And the two agreed to work towards further deepening the Japan-U.S. security alliance, which marked its 50th anniversary in 2010.