South Sudan's oil minister said on Saturday that an oil cargo detained by northern officials in Port Sudan in a row over duty payments had now sailed, but that negotiations over transit fees were stalled.
"We have made consultations with Khartoum and at the end of the day yesterday (Friday) the shipment that was detained sailed to its destination," Energy and Mining Minister Garang Diing told AFP in an interview.
The foreign ministry in Khartoum confirmed on Friday that the authorities in Port Sudan, the landlocked south's only export terminal, had blocked a 600,000-barrel southern oil cargo after Juba refused to pay customs duties.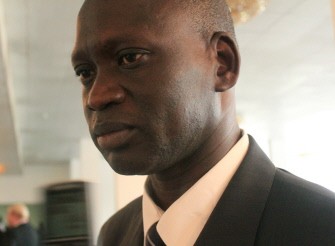 South Sudan's Minister of Energy and Mining Garang Diing is seen during an interview with the AFP, during the parliamentary swearing in ceremony in the capital Juba on August 6, 2011.
The move threatened to seriously escalate a growing row between the two sides since southern independence last month, with Juba accusing Khartoum of trying to sabotage its economy.
Diing did not indicate whether, or how much, the south had paid to have the cargo released, but said his ministry was marketing South Sudan's oil itself, which was going "very well" except for problems sometimes caused by the issue of transit fees.
A foreign ministry spokesman in Khartoum said on Friday that no agreement had yet been reached between north and south on transit fees, one of the most sensitive of divided Sudan's unresolved issues, and that Khartoum was asking for $32 per barrel.
The energy minister said the north's demands had blocked the talks.
"Currently the oil negotiations are stalled. This is because NCP (the ruling National Congress Party) are demanding what they call financial transitional arrangements, in which they are asking a sort of contribution of wealth sharing.
"We are ready to assist Khartoum in recovering its economic loss... (But the government) is asking us to pay 32 dollars per barrel from the oilfield up to Port Sudan. We are saying that this is too high," Diing said.
He added that, despite the African Union's efforts to narrow the gap between the two parties, it was unlikely the talks would be finalised by the end of September, as the south's chief negotiator Pagan Amum had said late last month.
North and South Sudan both depend heavily on their oil receipts, with Khartoum's cash-strapped government desperate to offset the loss of southern oil revenues, estimated at around 36 percent of its total income.
Just weeks before the south seceded, President Omar al-Bashir threatened to deny Juba access to the north's oil infrastructure -- its pipelines, refinery and export terminal -- if no deal was reached prior to partition.