Ousted Iraqi President Saddam Hussein has been hanged in Baghdad on Saturday.
Officials who witnessed the execution said the 69-year-old former strongman remained defiant to the last, railing against his Iranian and American enemies and praising the rebels who have pushed Iraq to the brink of civil war.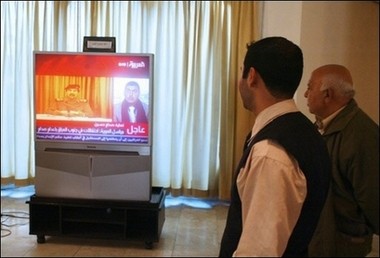 Iraqis watch the news on television announcing that ousted President Saddam Hussein has been hanged in Baghdad
"He said he was not afraid of anyone," said Judge Moneer Haddad, a member of the panel of appeal court judges who had confirmed Saddam's conviction for "crimes against humanity" and who attended the pre-dawn execution.
National Security Adviser Mowaffaq al-Rubaie said in a series of broadcast interviews that the former strongman's final minutes were lived in the same spirit as his grandstanding appearances in an Iraqi court.
"The time of death was very, very close to 6.00am (0300 GMT) ... It went like a blink of an eye -- he died very, very quickly -- it couldn't have been quicker."
Sami al-Askari, a Shiite lawmaker close to Maliki who also saw the hanging, said it had taken place in an old Saddam-era military intelligence headquarters in the Khadimiyah district of northern Baghdad.
Al-Rubaie said the Saddam's American jailers had handed him over to Iraqis and that there had been no US personnel in the building as the trapdoor dropped and the dictator's life was ended in a "100 percent Iraqi operation".
Saddam's and two co-accused -- his half brother and intelligence chief Barzan Hassan al-Tikriti and revolutionary court judge Awad Ahmed al-Bandar -- were sentenced to death by an Iraqi court on November 5.
Officials said that the execution of Saddam's aides had been postponed until after the Eid al-Adha religious holiday, which ends on Thursday.
Saddam's Jordan-based defence team, which largely boycotted the year-long trial, made one last desperate shake of the dice by going to court in the United States to demand that the ousted leader remain in US military custody.
But US authorities in Baghdad insisted that the detainees have been under Iraqi legal authority for more than a year and were only being held in an American military base as a simple security precaution.
Saddam's trial was the subject of fierce criticism from Sunni Iraqis -- who accused the court of being a puppet of Iraq's US occupiers and the Maliki government's Iranian allies -- and from international rights groups.
Human Rights Watch complained that Maliki's government had pressured the judge to return guilty verdicts, and was quick to attack the execution.
"The test of a government's commitment to human rights is measured by the way it treats its worst offenders. History will judge the deeply flawed Dujail trial and this execution harshly,"said the watchdog's Richard Dicker.