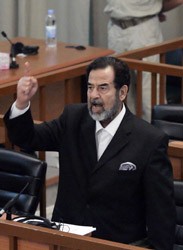 Former Iraqi President Saddam Hussein yells at the court as he receives his verdict, Nov. 5, 2006 (AFP Photo)
The death sentence handed down to Saddam Hussein may only intensify the factional divide in Iraq, as violence continues to plague the war-torn nation he once ruled, Japanese media said Monday.
"Although Hussein was judged by the hands of the Iraqi public, concerns remain that the verdict would further intensify the chaotic divide in Iraq," the top-selling Yomiuri Shimbun newspaper said.
Major Japanese newspapers splashed the news on their front pages Monday, with many of them carrying large photos of the defiant former strongman roaring at the judge and wagging his index finger as the verdict was delivered.
The influential Asahi Shimbun said in its editorial that some experts believed the trial was geared towards achieving political results in the United States, not Iraq.
"Officially, the trial was presided by Iraqis, but interventions by US authorities were clear," the Asahi said.
"Analysts believe this verdict was scheduled to show American voters progress in Iraq, just ahead of the US mid-term election on Tuesday."
The Asahi also expressed concern about a possible spike in factional fighting in Iraq, and said the trial had failed to reveal key details about Saddam's rule.
Japanese scholars have noted the strong political overtones of the trial, which they say could be used to raise doubts about the impartiality of the court proceedings.