Moqtada al-Sadr Friday called a mass rally for April 9 in Baghdad against US forces in Iraq, as Prime Minister Nuri al-Maliki ordered his troops to halt raids on the Shiite cleric's militiamen.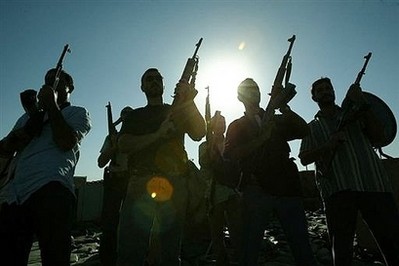 Members of a private security company pose on the rooftop of a house in Baghdad. The US State Department said Friday it is extending its diplomat protection contract for private security firm Blackwater USA, despite the incident last September in which Blackwater guards killed 17 Iraqi civilians.(AFP/File/Patrick Baz)
The venue for the protest had earlier been set as the central shrine city of Najaf but a Sadr spokesman said it would be more effective in the Iraqi capital and allow more people to take part.
April 9 marks the fifth anniversary of the overthrow of Saddam Hussein's regime following the US-led invasion of March 20, 2003.
"The Sadr movement has decided to change the venue of the huge demonstration that had been announced for Najaf on April 9," said Salah al-Obeidi, spokesman for Sadr's office in Najaf.
"A protest in Baghdad will be more effective because it is in the capital, and secondly, a protest there will allow people of other sects to participate," Obeidi told AFP.
"This demonstration is not limited to the Sadr movement. We want all Iraqis to take part. The target of the protest is the (US) occupation," he added.
The announcement came after crowds of people spilled on to the streets of Shiite areas of east Baghdad following the main weekly Muslim prayers to denounce Maliki and demand that US troops quit their areas.
"No! No! to occupation. Yes! Yes! to Islam," chanted the crowd in Sadr City, the cleric's main Baghdad bastion, many of them carrying posters showing a caricature of the premier bearing the words "Maliki is a puppet of Hakim."
Sadr's supporters accuse Maliki of siding with rival Shiite politician Abdel Aziz al-Hakim in the battle for control of Basra -- Iraq's main oil hub -- ahead of provincial elections in October.
Maliki meanwhile tried to calm tensions by ordering his troops to stop random raids across the country.
He said in a statement he was allowing time to those wanting to surrender their weapons after fierce clashes between his security forces and Shiite militiamen last week which killed at least 700 people, according to the United Nations.
"To give a chance to those who wish to lay down their arms, all raids and search operations will be stopped in all areas," Maliki said.
The prime minister had earlier given residents of the second city of Basra an April 8 deadline to hand over heavy and medium weapons in return for cash in a bid to cut the supply of weapons to militiamen.
Reiterating a similar order issued earlier this week, Maliki, however, ordered his forces to "chase those who have returned to arms."
His statement came as aides of Sadr accused the security forces of continuing to arrest members of the Mahdi Army, the radical Shiite cleric's militia, in Basra and other Shiite areas of Iraq.
Protestors in Sadr City Friday also demanded the withdrawal of US forces from the sprawling shanty town of some two million people, which is still under curfew.
Residents charged that American troops had launched random raids and had deployed snipers on rooftops who were shooting at residents.
US commanders acknowledged operations were under way in Sadr City but said these were linked to creating conditions for the distribution of humanitarian relief and denied emphatically that civilians were being targeted.
"We protect the Iraqi people and aggressively pursue armed criminals, Al-Qaeda in Iraq and Iranian-supported Special Groups who are committing violent acts or are planning to," a military spokesman, Lieutenant Colonel Steven Stover, told AFP.
"We have been in operating in the southern portion of Sadr City around the main thoroughfare in order to protect the Iraqi people," he added.
US commanders use the expression Special Groups to refer to what they say are renegade units of Sadr's Mahdi Army who failed to heed his order to stand down last August.
In his latest order, Maliki told the security forces to "guarantee the safety of those who have surrendered their arms from the perpetrators of violence."
He also urged troops to help families displaced during the violence and promised compensation.
Meanwhile, a US air strike in Basra killed three people -- a man and two children, AFP pictures showed.
British military spokesman Tom Holloway confirmed the strike but not the casualties.
He said the strike was carried out to support Iraqi forces who were fighting militants in the city's Al-Haiyaniyah neighbourhood.