Shiite radical leader Moqtada al-Sadr ordered his fighters off Iraq's streets on Sunday in a move which Prime Minister Nuri al-Maliki welcomed as a "step in the right direction" after days of heavy fighting in which hundreds of people were killed.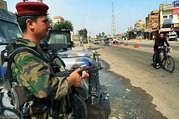 AFP Photo: An Iraqi police commando stands guard at a makeshift checkpoint setup in the southern city...
"We want the Iraqi people to stop this bloodshed and maintain Iraq's independence and stability," Sadr said in a statement with his seal released by his headquarters in the Shiite shrine city of Najaf in central Iraq.
"For that we have decided to withdraw from the streets of Basra and all other provinces."
Sadr's call came after fighting since Tuesday between Shiite fighters and Iraqi forces in the southern port city of Basra, Baghdad and several other Shiite regions that has killed at least 270 people.
He took the decision as it was his "legitimate responsibility to stop the bleeding of Iraqis, to maintain the reputation of Iraqi people, the unity of land and people, to prepare for its independence and liberation from the dark forces and to quell the fire of division by the occupier and its followers."
Sadr distanced himself from those "who carry weapons and target the government, the offices of the government and its parties".
He demanded that the "random" arrests of his followers be stopped by Maliki's security forces.
The prime minister, himself a Shiite who has been directing security operations from inside Basra, said he hoped the order would "contribute to the stability of the situation".
"It is a step in the right direction," he said in a statement issued by his office in Baghdad.
Maliki insisted that the security operation in Basra was not targeting "any political or religious group, including the Sadr group".
In a later statement, he said gunmen laying down their arms and withdrawing from the streets would be granted amnesty. "They will escape all legal consequences," Maliki said, adding that he was taking the step "in appreciation" of Sadr's order to his militia.
Fighters from Sadr's Mahdi Army in the cleric's Baghdad stronghold of Sadr City said they had already begun obeying their leader's order.
"The moment we heard about Moqtada's order, we started withdrawing from the streets," Abu Mustafa, a Mahdi Army fighter, told AFP.
"We obey our leadership. But in spite of this, the Americans are still shooting at us."
Clashes erupted on Tuesday when Maliki launched an assault on Shiite militiamen in neighbourhoods of Basra controlled by the Mahdi Army, Iraq's most powerful Shiite militia.
The fighting quickly spread to other Shiite regions, including in the capital.
Representatives of Sadr and the government had been engaged in negotiations in Najaf since Saturday to end the standoff.
Sadr aide Hazam al-Araji said the new orders to Mahdi Army fighters came in response to "guarantees given by the government to stop the arrests and fighting in all cities of Iraq."
On Wednesday, Maliki had given Shiite fighters in Basra a 72-hour deadline to disarm and only Saturday he had vowed to press on with the assault, saying the militiamen were "worse than Al-Qaeda".
Basra, Iraq's crucial oil hub, is the focus of a turf war between the Mahdi Army and two rival Shiite factions -- the powerful Supreme Iraqi Islamic Council (SIIC) of Abdel Aziz al-Hakim and the smaller Fadhila party.
Baghdad and Basra both remained under curfew on Sunday although there was a lull in the fighting, according to residents of affected neighbourhoods.
However, Baghdad operational command decided to lift the curfew in Baghdad from 6:00 am (0300 GMT) on Monday, state television reported.
US warplanes have carried out a series of air strikes in Basra in support of the Iraqi operations, Iraqi and US officials have said.
On Sunday, the US military acknowledged that its ground troops had started participating in the Basra assault.
British troops have deployed outside their base on the edge of Basra in support of the Iraqi operations, British military spokesman Major Tom Holloway said on Sunday, adding there were no plans for "troops to enter the city".