South Korea's ruling Saenuri Party nominated a nongovernmental organization leader and former head of its ethics panel as its interim leader Friday, reported by the Yonhap.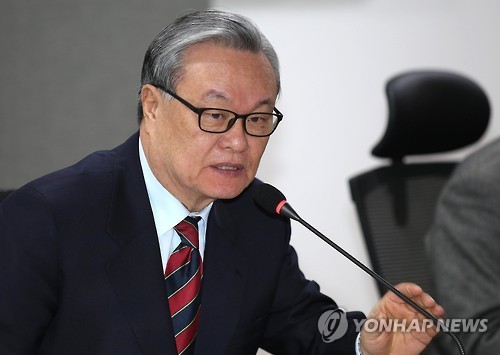 The ruling Saenuri Party's emergency committee head nominee In Myung-jin (Yonhap)
In Myung-jin, 70, a co-representative of the Citizens' Coalition for Economic Justice, was named to head the emergency leadership committee of the party, which has been reeling from the impeachment of President Park Geun-hye and ensuing factional fighting.
The former pro-democracy activist recently led a lawsuit to suspend Park from presidential powers and commented that Saenuri is "a party that should disappear."
Around 35 dissident lawmakers announced this week they will leave the party next Tuesday after the mainstream faction rejected their demand to name Rep. Yoo Seong-min, a prominent anti-Park politician, for the position.
"We must not separate," In said. "The direct cause for their departure is the defeat in the leadership election and the nomination of the interim head. But these cannot be reasons to leave.
"The biggest agenda item expressed by the candlelight rallies is the revision of the Constitution," In added.
South Koreans have been hosting candlelight rallies on every Saturday since the outbreak of the alleged influence-peddling scandal surrounding Park and her confidante Choi Soon-sil.
Amid the scandal, some politicians claimed the country must revise the Constitution to limit the power of the president.
Also a pastor, In chaired the ethics committee of the Grand National Party, a predecessor of Saenuri, from 2006-08, and served as an adviser to former President Lee Myung-bak on the national unification issue.
"We are going to bring in the former chairman as the emergency committee chief who will lead the innovation of conservatives and grand unity through revolutionary reforms," said Rep. Chung Woo-taik, the floor leader.
Saenuri will convene a national convention to approve his appointment as soon as possible, he said.
Opposition parties expressed regret over the nomination of the NGO leader to head the conservative Saenuri.
"In would be heading a party of lawmakers which opposed the impeachment to the last moment," the main opposition Democratic Party said. "He should clarify his stance on Park's impeachment."