Developers building one of the world's biggest hydropower projects in southwest China are taking dangerous shortcuts, state media reported Tuesday, citing the national auditor.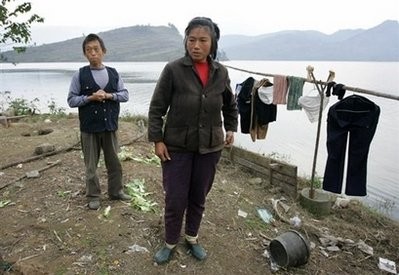 Two people living in a makeshift hut built on the shore of the lake created by China's huge Three Gorges dam.
Alarm bells started ringing after builders brought forward their timeframe to finish the Xiluodu dam by more than two years, the National Audit Office said in a report on the project, according to the China Daily newspaper.
"The quickened timeline increased the risks and difficulties, and added to the cost," the report said.
Budget costs were also out of control and the developers had illegally collected nearly 10 million yuan (1.46 million dollars) in unauthorised fees, the China Daily cited the report as saying, without giving further details.
The Xiluodu dam, being built along the upper reaches of the Yangtze River on the borders of mountainous Yunnan and Sichuan provinces, is expected to be the world's third biggest hydropower project.
With the new timeline, construction is expected to be finished by 2013, the China Daily reported.
However plans continue to change, with developers last month deciding to raise the height of the dam from 278 metres (917 feet) to 285.5 metres.
The construction director of the project, Hong Wenhao, told the China Daily that the auditor's report "overrated the problem" and that there were no safety issues to be concerned about.
"They have exaggerated the problems a little. We have explained to the auditors before that we have run the project according to a long-term plan," Hong said, according to the China Daily.
"There will be no safety risks under our current working procedures because we do not allow any shortcuts when we build major projects."
China's massive dam projects have been a source of controversy for years.
The government insists they provide a clean source of energy and control flooding, with the world-biggest Three Gorges dam the highest-profile example.
But critics say the dams often cause huge environmental problems and do little to control floods, while millions of people have been displaced to make way for them and the projects are often riddled with corruption.
The China Daily reported last month that several dams on China's Yellow River were close to collapse just a few years after they were built, and there were concerns that over 40 percent of the nation's reservoirs were unsafe.