NEW YORK (AFP) – Embattled Japanese automaker Toyota has announced it is temporarily suspending sales of its 2010 Lexus GX 460 SUV in North America after a safety warning by a top US consumer magazine.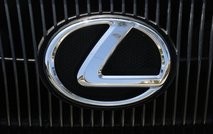 The logo of a Lexus vehicle at a car dealer's showroom in Los Angeles. AFP photo
Consumer Reports gave the sports utility vehicle a rare "Don't Buy: Safety Risk" rating after conducting tests on the car.
When pushed to its limits, the rear of the GX "slid out until the vehicle was almost sideways before the electronic stability control system was able to regain control," the magazine said.
"We believe that in real-world driving, that situation could lead to a rollover accident, which could cause serious injury or death," it added, while cautioning it was "not aware of any such reports."
In response to the Consumer Reports warning, Toyota said it had asked its dealers to "temporarily suspend sales of the 2010 GX 460" in the United States, but insisted it was "confident that the GX meets our high safety standards."
Toyota also asked dealers in Canada "to temporarily suspend delivery" of the same model, the company said.
The automaker has recalled millions of cars in the United States since late 2009, over a series of problems linked to "unintended acceleration."
The recalls have caused an outcry in the United States, with Toyota executives hauled over the coals by Congress and the company's previously stellar reputation for safety left in tatters.
Toyota said it was concerned by the Consumer Reports rating and had not experienced any similar problems in its own tests. It offered to provide a loaner car to concerned GX 460 owners until it identified a remedy.
"For more than 20 years, Lexus has made customer safety and satisfaction our highest priorities. We are taking the situation with the GX 460 very seriously and are determined to identify and correct the issue Consumer Reports identified," Toyota said.
"Our engineering teams are vigorously testing the GX using Consumer Reports' specific parameters to identify how we can make the GX's performance even better."
The company faces a record 16.4-million-dollar fine in the United States for hiding dangerous defects in its cars from consumers and watchdogs.
And its troubles are not over yet, with the National Highway Transport Safety Administration (NHTSA) warning Toyota in a letter obtained Saturday by AFP that it could slap another fine on the Japanese carmaker.
Toyota recalled more than nine million vehicles worldwide, including more than six million in the United States, mainly for involuntary acceleration problems but also for some faulty brakes on some hybrid vehicles.
Toyota has been hit with at least 97 lawsuits seeking damages for injury or death linked to sudden acceleration and 138 class action lawsuits from angry customers suing to recoup losses in the resale value of Toyota vehicles following the recalls.
It has also suspended production of some Lexus models in Japan over problems with the breaking system.