APIA, Sept 29, 2009 (AFP) - A Samoan resort area popular with foreign tourists has been "devastated" by a deadly tsunami that ripped through the Pacific island nation, the country's deputy prime minister said.

Misa Telefoni told the Australian Associated Press that residents and visitors had little time to brace for the disastrous waves which have killed at least 36 people in the archipelago.
He said two of the country's most popular resorts, Sinalei Reef Resort and Coconuts Beach Resort, off the west coast of the main island of Upolu, had been hit hard by the tsunami.
"We've heard that most of the resorts are totally devastated on that side of the island," he said.
"We've had a pretty grim picture painted of all that coast," he added.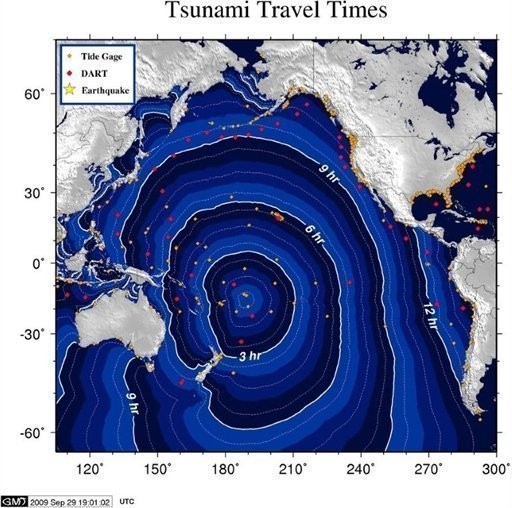 This graphic provided by the National Oceanic and Atmospheric Administration (NOAA) shows tsunami travel times
Telefoni said his cousin Joe Annandale, the owner of the upmarket Sinalei resort, was in a critical condition and that Annandale's wife Tui had drowned.
"People were saying that there was the shake and the ocean went out within five minutes, so that's pretty fast and that makes it extremely difficult," he said.