SEOUL (AFP) – South Korea's Samsung Electronics said Friday first-quarter net profit surged more than six-fold from a year earlier to 3.99 trillion won (3.6 billion dollars) amid stronger demand and higher memory chip prices.
Samsung, the world's largest maker of computer memory chips and flat screen televisions, also reported a record operating profit of 4.41 trillion won as global demand for consumer electronics perks up after the financial crisis.
Revenue increased 21 percent year-on-year to 34.64 trillion won, the firm said in a statement. The figures include results from overseas subsidiaries.
The company, which is also the world's second largest mobile phone maker after Finland's Nokia, said it expects earnings in the second quarter to be even better based on strong demand for chips and liquid crystal displays.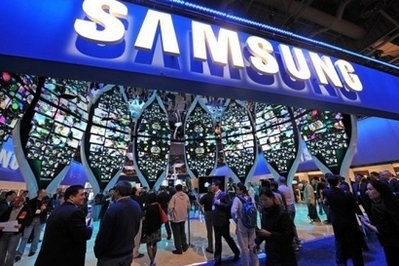 A booth of electronics giant Samsung at a consumer fair in Las Vegas, Nevada, USA (AFP file)
Vice president Robert Yi also cited increased sales of products such as mobile phones and televisions.
"We will continue to widen the gap with competitors in the memory business, improve profitability in the LCD business, and strengthen our competitiveness and market dominance in the handset and TV businesses," Yi said.
The Q1 operating profit beat the previous high of 4.22 trillion won in the third quarter of 2009.
The results were slightly better than the earnings guidance the firm released earlier this month, which forecast first-quarter revenues of about 34 trillion won and an operating profit of 4.3 trillion.
Samsung for the first time used international financial reporting standards to tally its figures.
In January-March 2009 the firm had reported net profit of 582 billion won and operating profit of 593 billion.
The company's memory chip business achieved a dramatic turnaround in the first quarter of this year, recording an operating profit of 1.96 trillion won compared to a loss of 710 billion won a year earlier.
Samsung said DRAM (dynamic random access memory) prices rose due to supply constraints amid strong demand.
The NAND flash memory market was steady due to strong demand for smartphones and mobile application products.
It said demand for both types of chip was expected to rise in the second quarter thanks to steady growth in shipments of personal computers and increased demand for mobile products including tablet PCs.
"We will raise Samsung's second-quarter operating profit forecast as prices of memory chips are likely to rise further," Jin Sung-Hye, an analyst at Shinhan Investment Corp., told Yonhap news agency before the earnings report.
Yi told a conference call the company would "substantially increase" its capital investment in the semiconductor and LCD sectors this year, without giving figures.
The company's initial guideline said 5.5 trillion won will be funneled to semiconductors and another three trillion won will be spent on LCDs.
Samsung, which has overtaken Japan's Sony in global clout, employs about 188,000 people in 185 offices across 65 countries. Its shares ended Friday up 2.9 percent at 849,000 won.