Sarah Palin, a former beauty queen once dubbed "America's Hottest Governor," has rocketed in less than a week from being an unknown Alaskan politician to the Republican vice presidential pick.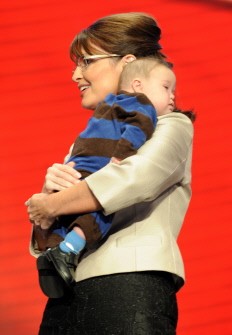 Republican vice presidential candidate Sarah Palin holds her son Trig after her speech to the Republican National Convention (RNC) in St Paul, Minnesota on September 3, 2008.(AFP Photo)
The 44-year-old mother of five sent shockwaves through the 2008 US presidential election campaign when she was named John McCain's running mate -- the first woman to be included on a Republican ticket.
But then as a slew of personal and legal revelations came to light, initial concerns over her credentials to stand just a "heartbeat" from the presidency boiled over into a political hot potato.
The family values champion, who is a devout Christian, has disclosed that her unwed teenage daughter, Bristol, 17, is pregnant, faced claims she abused her power as governor and mayor of a small town, and sought federal cash for programs opposed by McCain.
On Wednesday in her highly-watched address to the convention, she defended herself against accusations that as a smalltown "hockey mom," she lacked the experience to be the US deputy commander-in-chief.
"I guess a small-town mayor is sort of like a 'community organizer' except that you have actual responsibilities," she said in a swipe at Democratic White House hopeful Barack Obama who started as a community organizer in Chicago.
And she warned Democrats that she was definitely much more than a pretty face, quipping: "you know, they say the difference between a hockey mom and a pit bull? Lipstick."
Palin is also an ardent "pro-life" campaigner who gave birth in April to her fifth child, a boy, Trig, who has Downs Syndrome.
When the scandal of her daughter's pregnancy came to light, she and husband, Todd, swiftly issued a statement saying Bristol was keeping the baby and planned to marry the father, a high school hockey player named Levi Johnston.
Palin hunts regularly and casts herself as an anti-corruption crusader, positions which have helped win her approval ratings of 80 percent.
She has only led the vast, oil-producing northwestern state since December 2006, when she became the youngest person ever to hold Alaska's governorship.
Now she has become the second woman ever to run on a major-party White House ticket, after Democrat Geraldine Ferraro who ran as VP in 1984.
Palin grew up in the town of Wasilla, Alaska -- population 8,500 -- leading her high school basketball team, where she earned the nickname "Sarah Barracuda" for her aggressive, determined style and placing second in the Miss Alaska contest. A popular car bumper sticker in Alaska reads: "Coldest state, Hottest Governor."
She studied journalism at the University of Idaho and worked in Anchorage as a television sports reporter before moving into politics.
She returned to Wasilla in 1992 to serve on the city council. Later she successfully challenged the incumbent-mayor and held office from 1996-2002.
Palin soon moved on to bigger game: Republicans entrenched in state office. After she first lost a run for the lieutenant governorship, she helped expose shady deals linked to the state Republican party's top bosses and finally ousted Republican incumbent Frank Murkowski for the governorship in 2006.
On taking office she immediately began a drive focusing on legislative ethics, driving through a reform bill within six months of her election win.
Palin also has son in the US army scheduled to be deployed to Iraq on September 11, and daughters Willow, 14, and Piper, seven.
She continues to commute daily from Wasilla to the governor's office, where a large sign over her suite reads "Time to make a difference." A giant digital clock nearby counts down the days, hours, minutes and seconds remaining in her term, which, unless she makes it to Washington, ends in December 2010.
But Palin's career has not been all plain sailing.
She is currently under investigation by the Alaska legislature for possible abuse of power concerning the dismissal of the head of the Department of Public Safety, Walt Monegan, in July.
Her husband Todd, 43, a former commercial fisherman who now works in Alaska's oil fields and who is a champion snowmobile racer, a four-time winner of the Alaska Iron Dog competition. Alaskans have dubbed him "The First Dude."