Allegations of illegal donations from France's richest woman plunged Nicolas Sarkozy into the biggest crisis of his presidency Tuesday, despite protests he is the victim of a smear campaign.
The French government reacted angrily to reports police had interviewed a witness over claims his presidential campaign received an illegal contribution of 150,000 euros in cash from L'Oreal heiress Liliane Bettencourt.
Sarkozy faces mounting pressure to address the allegations directly and calls for a clear-out of tainted ministers, including embattled Labour Minister Eric Woerth, who is at the centre of the scandal.
"I would love it so much if the country could excite itself over the big problems ... rather than to get wrapped up in the first horror, a slander with only one goal, to smear with no basis in reality," Sarkozy said.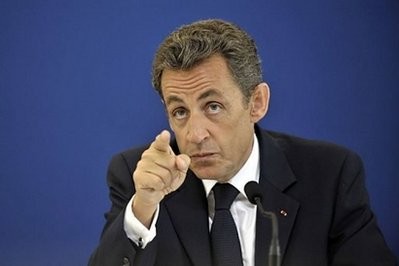 French President Nicolas Sarkozy gives a press conference during his visit at the Brie-Comte-Robert hospital, some 30 km east of Paris.

Prime

Minister Francois Fillon was more direct.
"This is slander, this is a systematic destabilisation campaign," Fillon told a news conference at the European parliament in Strasbourg.
"We will not be intimidated by these methods and I want to say that those who are involved in this manhunt, or slanderous accusations, should ask themselves if they still have a conscience," he said.
In Paris, a parliamentary debate turned ugly when Budget Minister Francois Baroin accused the opposition of doing the work of the far right in pursuing the scandal, prompting a walk-out by Socialist deputies.
Sarkozy's approval ratings are at their lowest levels since his 2007 election and he faces an uphill battle to get reforms back on track before seeking reelection in 2012.
On Tuesday, an opinion poll by the Ifop agency found 69 percent of French voters would like to see an immediate cabinet reshuffle.
Already at the weekend two junior ministers were forced to step down over reports that they had spent public money on private jet rentals and cigars.
The new claim is that Woerth, treasurer of the ruling UMP as well as a key minister, received 150,000 euros (188,000 dollars) in cash from Bettencourt. Donations to politicians and their parties are strictly limited in France.
The investigative website Mediapart interviewed a former Bettencourt accountant, identified as Claire T., who alleged the heiress often gave cash to right-wing politicians.
The accountant's lawyer, Antoine Gillot, confirmed to AFP that his client had told police about the alleged payments.
According to Mediapart, the accountant also alleges that Sarkozy personally received envelopes of cash after dinners at Bettencourt's mansion when he was mayor of the Paris suburb of Neuilly.
Woerth denied any wrongdoing and said he would not resign: "My party has not received a single illegal euro. That's enough! I have been treasurer for eight years. No one can say I did anything wrong."
Last week, Sarkozy defended Woerth after it was revealed that his wife worked for a firm managing Bettencourt's 17-billion-euro personal fortune.
But, with the head of state now personally implicated, key right-wing allies, including the UMP leader in parliament, Jean-Francois Cope, called on the president to "speak to the French people" about the scandal.
Presidential aides confirmed he was considering making a televised address.
Benoit Hamon, spokesman for the opposition Socialists, called for a reshuffle and said that the allegations meant Woerth no longer had the "legitimacy" to be the government's architect of pension reform.
Claire T. alleged that Woerth received the cash donation in March 2007, ahead of Sarkozy's election in May.
Woerth has served as Sarkozy's budget minister charged with fighting tax evasion by personalities like Bettencourt, before serving as labour minister.
Mediapart quoted Claire T. as saying she had been asked for 150,000 euros by Bettencourt's financial adviser Patrice de Maistre, who told her he would give it "discreetly" to Woerth at a dinner.
The accountant, who worked for Bettencourt for 12 years until 2008, said she believed Sarkozy had also received envelopes in person while he was mayor between 1983 and 2002.
"Everyone in the house knew that Sarkozy went to see the Bettencourts to collect money," Mediapart quoted her as saying.
The scandal implicating the heiress started with secret tapes recorded by the 87-year-old billionaire's butler and leaked to media last month.
Woerth's name came up in the conversations, in which she and Maistre -- who denies all the allegations -- allegedly plotted to evade taxes.
He added Tuesday that he would not resign.
"Every day I hear torrents of insults... I have nothing to reproach myself for," he told the TF1 television channel.