WASHINGTON, March 30, 2010 (AFP) - French President Nicolas Sarkozy warned the United States that it cannot "run the world alone" as he warmed up for a summit Tuesday with Barack Obama by echoing Franco-American spats of the past.
Delivering some self-styled "home truths" to his hosts, the French leader used a visit to New York ahead of his meeting with the US president to query the dollar's dominance and pushed for a tightening of economic regulations.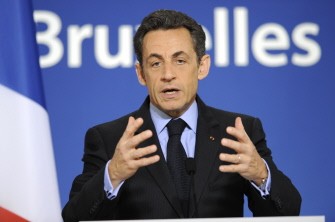 French President Nicolas Sarkozy speaks during a press conference at the European Union summit at the European Council headquarters on March 26, 2010 in Brussels. AFP photo
Saying "there is no single country in the 21st century that can run the world alone," he urged the United States to join Europe in "inventing the rules for the economy of tomorrow."
Sarkozy, accompanied on the visit by his wife Carla Bruni, a former supermodel, said he would discuss with Obama ways to stabilize commodities markets and to define "a new international monetary order."
"The dollar is not the only currency in the world," he said.
The talks in the Oval Office between the US president and his French counterpart are also expected to focus on hot button foreign policy issues such as the war in Afghanistan and Iran's nuclear drive.
Obama will renew a US request to Sarkozy to send more French military and police trainers to Afghanistan and discuss his new push for nuclear disarmament ahead of the Washington summit next month.
One bone of contention to be discussed by the leaders is a huge US military contract to supply 179 tanker planes. France has accused Washington of protectionism by seeking to favour Boeing over Europe's Airbus.
Sarkozy has generally worked hard to rebuild ties with Washington, but his comments to Columbia University students on Monday recalled a more prickly past.
Reiterating traditional European skepticism of US economic free markets, he said: "We need the great American people to understand that the absence of rules kills liberty."
"The world economic regulations cannot go on as they are. We can't accept a capitalist system without rules any more," he added. Lack of rules, he said, "will be the death of capitalism."
With his popularity diving at home and his party reeling from defeat in regional elections, the US visit is seen as a chance for Sarkozy to regain momentum.
While he was careful to praise Obama, he appeared to have a less upbeat view of ordinary US citizens, pleading with them "not to lag behind" behind their president on financial regulations, defense and the environment.
Even his congratulations for Obama's hard-fought victory in pushing health care reform through a divided Congress came laced with criticism.
"Welcome to the club of countries that does not dump its sick people," Sarkozy said.
"But if you want me to be sincere, seen from Europe, when we see the US debate on health care reform, we find it hard to believe."
France, he noted, had "resolved" the health care problem half a century ago.
Meanwhile, Sarkozy urged worldwide support for Russia following the deaths of 38 people in two suicide bombings in the Moscow metro.
The French president said the attacks were no different to the terrorist attacks of September 11, 2001, which killed nearly 3,000 people, most of them in New York.
"Do you think there's a fundamental difference between the lunatics who blew up innocent victims in the Moscow metro and the insane people who flew planes into the Twin Towers of New York?" he asked.
"When New York was attacked, all the world's democracies were attacked. And when Moscow is attacked, we are all attacked," Sarkozy said.
In New York he also met with UN chief Ban Ki-moon and discussed Wednesday's planned aid conference on Haiti, international climate change talks and reform of the UN Security Council, where France is one of the five permanent members, the UN press office said.