Saudi Arabia and its Gulf allies are trying to broker a deal to have Yemen's president step down and hand over power, possibly to an interim council of tribal and political leaders, sources told Reuters on Wednesday.
Ali Abdullah Saleh's at times bloody response to protests, inspired by those in Egypt and Tunisia, against his 32-year rule has tried the patience of his U.S. and Saudi backers.
A variety of official sources say they are now ready to push aside a long-time ally against the Yemen-based wing of al Qaeda to avoid a chaotic collapse of the poorest Arab state.
"The proposal is to have a governing council grouping all the various political parties and tribes for a period that would not exceed three months," one Gulf official told Reuters.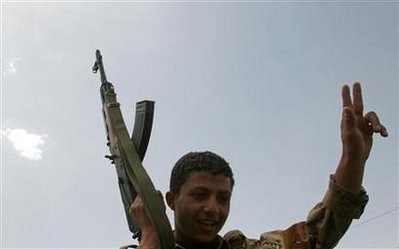 An army soldier gestures after taking part in clashes with supporters of Yemeni President Ali Abdullah Saleh in Sanaa April 5, 2011
The plan is to be presented to Saleh and his opponents at talks to take place soon in Saudi Arabia. "The council will set the way for elections," the Gulf official added, echoing other sources in the region and beyond.
"We hope that we will strike a deal," Qatari Prime Minister Sheikh Hamad bin Jassim al-Thani told reporters on the sidelines of a Business and Investment in Qatar Forum in New York.
"We (Gulf states) have been meeting for the last few days in Riyadh and we're sending a proposal for him and the opposition and we hope a meeting will be held between his team and the opposition to try to find a way out of this problem," he said.
Ali Mohsen, the prominent general who turned against Saleh last month, welcomed the proposed Gulf-sponsored transition talks on "the basis of achieving the demands of the peaceful youth revolution," a source close to him said on Wednesday.
But the United Arab Emirates' foreign minister said a date was yet to be set for the Riyadh talks.
"We are in the process now of talking to all the parties... We have not been in touch with all the parties yet," Sheikh Abdullah bin Zayed al-Nahayan told Reuters
More than 100 people have been killed since anti-government protests began in Yemen, including the March 18 killings of 52 anti-government protesters by rooftop snipers in Sanaa.
That incident, which led Saleh to declare a state of emergency, prompted top Yemeni generals, ambassadors and some tribes to back the protesters, in a major blow to the president.
WASHINGTON POLICY SHIFT
This week Washington began to shift its policy of public support for Saleh, who has rallied large numbers of supporters and insists he should stay until elections late this year.
Saleh stepped up rhetoric over the weekend, telling a crowd of supporters he would defend Yemen with "blood and soul."
Even before the wave of pro-democracy protests against his rule, Saleh was struggling to quell a separatist rebellion in the south and a Shi'ite insurgency in the north.
Frustration with Saleh's intransigence may push Yemenis, many of them heavily armed and with experience of wars and insurgencies, closer to a violent power struggle that could give al Qaeda's regional wing more room to operate.
All of these factors spark concern for stability in a country that sits on a shipping lane through which more than three million barrels of oil pass each day.
Tens of thousands protested in the central city of Taiz earlier on Wednesday and security forces fired into the air to try to disperse them. No casualties were reported.
In the latest unrest, police shot and wounded two people during a demonstration against domestic gas shortages in the capital Sanaa late on Wednesday, witnesses said.
Police and armed men in civilian clothes fired on marchers in Taiz and Hudaida in the west on Monday, killing 21 people.
The next day they again fired at crowd of protesters in Taiz, wounding dozens. Protesters responded by hurling rocks. Three people were killed in clashes in the capital Sanaa.
Local analysts say Saleh's party's ability to stage big rallies emboldens him, even as hundreds of thousands demand his resignation.
POWER TRANSITION
Though diplomats familiar with the latest negotiations question if a deal is anywhere close to being struck, the proposal by the Gulf Arabs involves coaxing Saleh to quit and hand his powers for a short time to a national council.
"The talks in Saudi Arabia will discuss the modalities and mechanism for transition of power," another source close to the discussions told Reuters. "There are some names being circulated to head a transitional council."
These included Sheikh Hamid al-Ahmar, a leading figure among Yemen's powerful tribes, Abdulkarim al-Iryani, a U.S.-educated former prime minister and currently an adviser to Saleh, and another former premier Abdulaziz Abdul-Ghani.
It is not clear whether any of these could win a consensus among the opposition, which includes the Islamist Islah party, socialists, Arab nationalists and others. Nor is it clear they would be acceptable to Saleh, who wants a say in the matter.
Saleh is a clever operator who has survived many tussles with rivals, and skilfully used bribes and favours to keep tribal and political backers loyal.
But keeping his allies' loyalty has become more difficult as Yemen sinks into an economic crisis. More than 40 percent of Yemenis live on less than $2 a day while a third face chronic hunger. Dwindling water and oil supplies are also problems.
Saudi Arabia, the world's biggest oil exporter and key ally and funder of Saleh, fears that its neighbor could fragment along tribal or regional lines if a way is not found out of the crisis soon -- something Saleh has warned of in recent speeches.
Washington has long seen Saleh as a pivotal ally in its fight against al Qaeda, which has used its Yemen base to stage attacks on Saudi Arabia and the United States. In return for billions of dollars in military aid, Saleh has pledged to fight militants and allowed unpopular U.S. air strikes on their camps.
SAUDIS PIVOTAL
Recent talks between Saleh and the opposition, some held in the presence of the U.S. ambassador, yielded little. Sources close to the talks in Sanaa say the United States gave Saleh an ultimatum to accept a deal and has since lost patience.
But some said Saleh listened more attentively to Riyadh.
"I don't think the United States is a player, they have much less influence ... the only country Saleh cares about is Saudi Arabia," said analyst Barak Barfi of the New America Foundation.
"If the U.S. cuts off military aid, it hurts them as much as Saleh and he knows it... The Yemenis need pressure from Riyadh."
One Gulf Arab source said there was concern that talks may yet drag on: "Saleh is still maneuvering. He keeps on coming with new ideas. All he wants is to stay in power. He starts off saying one thing and then ends up changing his mind."
The sources said talks had most recently bogged down over Saleh's demand for assurances that he and members of his family will not face prosecution, particularly for the corruption that is a particular grievance of many of the thousands of protesters who have been camping out at Sanaa University for two months.
Opposition sources have said they may accept Vice-president Abd-Rabbu Mansour Hadi as interim head of state and to discuss removing some of Saleh's sons who have key positions once Saleh steps down. They want Saleh abroad during the transition period.