Saudi Arabia's former intelligence chief on Tuesday said his country opposes any military strike on Iran, amid rising tensions over the Islamic republic's nuclear program.
"Such an act, I think, would be foolish. And to undertake it... would be tragic," said Prince Turki al-Faisal, his country's former intelligence chief and a former ambassador to Washington, speaking at a National Press Club briefing.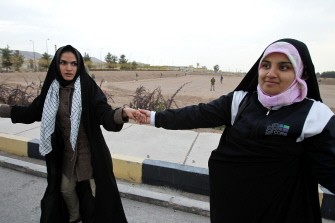 Iranian students form a human chain outside the Isfahan Uranium Conversion Facility during a protest in the city in support of Iran's nuclear program and against military threats by Israel on November 15, 2011
A military strike would rally Iranians around their government, the prince argued.
"If anything, (a potential military strike) would only make the Iranians more determined" to develop nuclear weapons, he added.
Israel in recent weeks has warned Tehran of possible military strikes against its nuclear sites, and fears of such an attack have increased following the release last week of a UN nuclear watchdog report accusing Tehran of working to develop nuclear warheads to fit inside its medium-range missiles.
Iran has long rejected Western and Israeli allegations that its nuclear program is geared toward military objectives, saying its activities are solely civilian.
And tensions have risen between Iran and Saudi Arabia in recent weeks, since US allegations surfaced that Iranian officials plotted to assassinate the Saudi ambassador to Washington.
Tehran has denied the accusations, but Riyadh has taken them seriously and said it was weighing "a suitable response."