BEIRUT, Jan 18, 2011 (AFP) - Schools closed in several Beirut neighbourhoods Tuesday after dozens of young men appeared on the streets, prompting fears of violence related to Lebanon's latest political crisis, an official said.
"Several schools asked parents to come and collect their children after groups of 60 or 70 unarmed young men appeared early this morning in each of several neighbourhoods of west Beirut where Hezbollah and Amal have a presence," the security official told AFP, referring to the two main Shiite parties in Lebanon.
"When questioned as to what they were doing there, the men quipped that they were simply going on a trip," he added, requesting anonymity.
"They began disbanding after about an hour."
The official said that the gatherings in the mainly Muslim neighbourhoods were clearly linked to the current political crisis in Lebanon over a UN probe into the 2005 assassination of ex-premier Rafiq Hariri.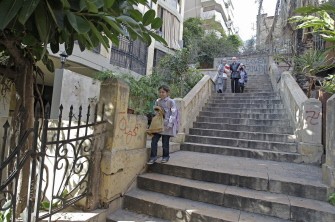 Lebanese school children walk back home after their school shut down in a mixed Beirut district on January 18, 2011 amid rising tensions in the Lebanese captial. AFP
The prosecutor for the Netherlands-based Special Tribunal for Lebanon (STL) on Monday submitted confidential indictments in the case to a pre-trial judge.
The powerful militant group Hezbollah has said it expect members of the party to be implicated in the murder, prompting fears of Sunni-Shiite sectarian violence.
The Iranian-backed Shiite party last week forced the collapse of the government because of a long-running dispute with the Western-backed Prime Minister Saad Hariri -- son of the slain leader -- over the STL.
"The gatherings this morning may signal preparations to mobilise in relation to the indictments handed down," the security official said.
Lebanon's Education Minister Hassan Mnaymneh issued a statement mid-morning urging parents to bring their children back to school and saying that classes would resume normally.