In Britain, the Scottish Executive in Edinburgh said the mute swan -- found last week on a harbour slipway in Cellardyke, Fife -- perished from the same H5N1 strain that has killed more than 100 people, mainly in Asia.
The confirmation brought to 13 the number of countries in the EU reporting cases of the feared disease.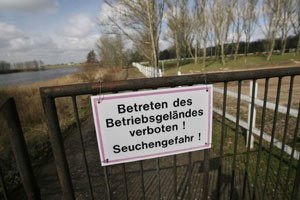 A sign reading No Trespassing - Danger Epidemic in front of a poultry farm in Mutzschen near Leipzig, which is the first poultry farm effected by H5N1 virus in Germany (AFP Photo)
In Berlin, the German government said some 14,000 more fowl will be slaughtered in a small town near Leipzig where H5N1 bird flu has killed turkeys in the first outbreak on a farm in Germany.
More than 16,400 turkeys, chicken and geese have already been slaughtered since the virus was confirmed Wednesday in the farm in Wermsdorf.
Egypt reported its third human death, so far the only country outside of Asia to have reported human infections and deaths.
Iman Mohammed Abdel Gawad, a 16-year-old girl from the northern governorate of Menufiya, died after being rushed to hospital Wednesday suffering from high fever and shortness of breath, the official MENA news agency said.
She was one of two new cases reported Thursday, bringing to 11 to the total number of confirmed transmissions to humans in the most populous Arab country. According to the latest figures released by the World Health Organisation, the H5N1 strain has killed at least 108 people worldwide but experts say many cases go unreported.
The bulk of human cases were reported in the Far East and China, where the epidemic broke out in 2003, but Egypt, Turkey and Azerbaijan have been the most affected countries in the new wave of infections that spread westwards this year.
A deadly strain of bird flu has been detected in Africa's most populous city, the Nigerian commercial capital Lagos, Information Minister Frank Nweke said.
"The virus has so far been identified in 12 states, including Lagos, as well as around the federal capital Abuja," Nweke told AFP.
In the three months since the west African country has begun battling avian influenza, more than 450,000 birds have either died or have been killed as part of preventive measures.
Chicken sales have fallen, and many countries have banned Nigerian poultry imports.
In Scotland, local officials, reacting to confirmation that a dead mute swan had the disease, ordered all free-range poultry within a 2,500 square kilometre (960 square mile) "wild bird risk area" to be brought inside.
Charles Milne, Scotland's chief veterinary officer, stressed that the move was precautionary, and that experience in other western European countries showed that the probability of poultry getting H5N1 was "extremely low".
Medical officials said the danger to humans was minimal, and recalled that someone has to be in prolonged close exposure to infected birds in order to contract the potentially fatal virus.
Britain's first case of H5N1 was discovered last October in a parrot imported from South America. But it died whilst quarantined with birds from Taiwan, enabling the virus to be immediately contained.
In Glasgow, city officials said Thursday that two swans found dead in a local park had been sent off for testing, while six swans were reported to the authorities in Northern Ireland.
There are 175 registered poultry farms in the Scottish wild bird risk area, including 48 which house some 260,000 free range birds -- the ones most vulnerable to infection from wild birds.
In France, the sale of poultry was reported returning almost to normal, following a case of H5N1 flu on a farm that was confirmed last month. That news sent poultry sales plunging by a third but the federation representing large stores and distribution companies said sales were back almost to normal.
In Burkina Faso, which this week became the fifth African country to be hit by the H5N1 strain of bird flu, authorities began Thursday culling poultry and birds in a three-kilometre radius from the farm outside the capital Ouagadougou where three infected guinea fowl were found.

Source: AFP