LEH, India, Aug 9, 2010 (AFP) - Emergency teams in India's remote Himalayan region of Ladakh on Sunday struggled to deliver food and aid to survivors of flash floods that killed at least 137 people and left 500 missing.
A cloudburst on Friday caused devastating floods that swept away roads, buildings, bridges and power cables in a tide of rock and mud. Rescuers fear many more victims may have died after being buried.
Thousands of residents in Leh, the main town of Ladakh in the Indian-controlled sector of Kashmir, abandoned houses hit by the mud flows and moved to higher ground where they slept in the open despite the cold.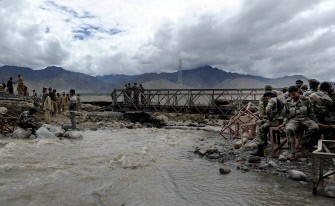 Indian army personnel rest after setting up a temporary bridge at Choglamsar village in Leh on August 8, 2010. AFP
Indian soldiers, police and paramilitary troops led the relief operation on Sunday, sifting through destroyed homes and providing basic medical care to those injured.
Tourists visiting the region and local Buddhist monks also helped in the clearance and rescue work, which was hampered by a lack of heavy-lifting equipment and the severe mountain terrain.
"We now have 137 confirmed deaths and over 400 injured," a police officer in Leh told AFP, asking not to be named as he was not authorised to talk to the media.
He said the village of Choglamsar, on the outskirts of the town, had been swamped by mudslides and many residents were feared dead.
Leh, situated in an arid mountain desert at an altitude of 3,505 metres (11,500 feet), receives virtually no rainfall all year and has no planned drainage system.
The main hospital was badly damaged in the floods and makeshift medical centres dealt with scores of patients on Sunday.
"Children with broken bones have been carried here, and many people say the water just took away everything in its path," an AFP photographer at the scene said.
"The army are trying to arrange distribution of emergency supplies and to set up relief camps, and soldiers have begun erecting temporary bridges where bridges have disappeared," he said.
Communication links with the area remained patchy and Leh was without mains electricity. Landslides blocked the two roads to the area via Srinagar, the main town in Indian Kashmir, and via the Manali-Leh highway.
Six planes carrying military emergency teams arrived at the damaged Leh airport on Saturday, along with specialist medical units and five tonnes of medicine flown in from the national capital New Delhi.
Ladakh is a highly militarised area because of sensitive border disputes with both Pakistan and China. It is also renown for its Buddhist culture, while its mountains and rivers attract international adventure tourists.
"On Saturday we rescued some seven foreigners from the Batalik sector of Ladakh, and the search is on to trace if there are any others missing," army spokesman J.S. Brar told AFP.
Kashmir's tourism chief Farooq Shah told AFP there were no reports of any foreign casualties.
"There is no death of foreigners in Leh town but we are trying our best to collect information about tourists who had gone out to villages and up into the mountains," Shah said.
Special flights were laid on Sunday to carry tourists to Delhi from the stricken area and more are planned for Monday, according to the Press Trust of India.
The US and United Kingdom have urged their citizens to avoid travel to Leh.
The floods came as neighbouring Pakistan suffered the worst flooding in its history with 15 million people affected and at least 1,600 people killed.