Rescue teams searched for survivors Monday after Chile's quake toll topped 700 and the extent of the disaster became clear in coastal areas where giant waves left behind a path of death and destruction.
The Chilean government declared a curfew in two of the worst-hit areas, the central Maule region and the second city of Concepcion and its province, where security fears rose as police fired tear-gas and water cannons to disperse gangs of looters.
President Michelle Bachelet said she expected the toll of 708 to rise further, while her government admitted it had erred by failing to warn Chileans about the tsunami risk following Saturday's 8.8-magnitude quake.
State television reported that more than 300 bodies had been found in the swamped fishing village of Constitucion alone, although this could not be immediately confirmed.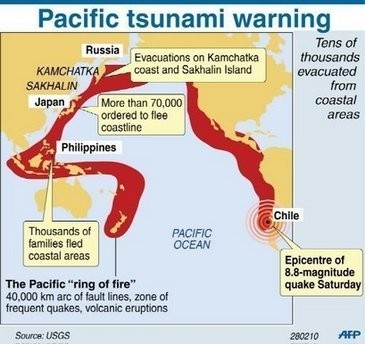 Graphic showing Pacific countries where tens of thousands have been evactuated following a tsunami warning after Saturday's 8.8-magnitude quake in Chile.
Giant waves engulfed seaside towns and villages, drowning residents, washing away entire homes and leaving desperate survivors to stare in disbelief at the seaweed clinging to what was left of their livelihoods.
"The wave came and covered everything. It was something like six meters (20 feet) high," Carlos Palma told AFP as he tried to salvage belongings in the seaside town of Penco.
Official data from US experts at the Pacific Tsunami Warning Center put the biggest tsunami wave at 2.6 meters (8.5 feet), but whatever its size the devastation in coastal areas was clear.
The wave came without warning for many, sweeping helpless people out to sea and reducing all but the strongest structures in its path into useless flotsam and jetsam. 'The wave covered everything': Chile tsunami survivor
"There was a mistake," said Defense Minister Francisco Vidal. The navy "made a mistake by not issuing a tsunami alert."
The mayor of Chile's worst-hit main city of Concepcion pleaded urgently for help as rescuers with heat detectors hunted for dozens of people believed to be trapped in a 15-story apartment block toppled on its side by the quake. Rescuers hunt survivors trapped in Chile apartment block
The army was also called in to help the overwhelmed police force deal with looters, some of whom dragged shopping trollies full of provisions while others made off with plasma TVs and electrical appliances.
"We need food for the population. We are without supplies, and if we don't resolve that we are going to have serious security problems during the night," said mayor Jacqueline van Rysselberghe, warning of grave "social tension."
Maule military commander Guillermo Ramirez sent soldiers with megaphones to warn the 500,000 inhabitants of Concepcion of the dusk-to-dawn curfew they had to observe.
"I would advise criminals not to mess with the armed forces. Our response will be severe, but within the context of the law," he told would-be looters.
Bachelet, who is due to hand over power to her successor Sebastian Pinera on March 11, said the air force was to begin flying in food and vital aid to badly hit areas, some of which were largely cut off by the quake.
Some two million Chileans, or one eighth of the entire population, are estimated to have been affected by Saturday's temblor, which along with an Ecuador quake in 1906 is the seventh most powerful on record. Chileans sleep outside in fear of quake-hit homes
The worst disaster to befall Chile in 50 years sliced main highways with massive fissures, and bridges and overpasses lay in crumpled heaps and at twisted angles, unpassable and going nowhere.
Officials said 1.5 million houses and buildings were destroyed or badly damaged. The historic center of the town of Curico was said to be about 90 percent destroyed by the quake.
There was relief around the Pacific meanwhile as more than 50 countries and territories along an arc from New Zealand to Japan canceled warnings after their biggest scare since the 2004 Indian Ocean tsunami.
Unlike Haiti, struck by a devastating 7.0-magnitude earthquake on January 12 which killed 217,000 people, Chile is one of Latin America's wealthiest countries and has adapted its defenses since a world record quake in 1960. Building codes, quake locations key to Chile-Haiti tolls
But the total value of economic damage is still likely to range between 15 billion and 30 billion dollars, or 10-15 percent of Chile's real gross domestic product, the US risk modeling firm EQECAT predicted.
The epicenter of Saturday's quake was a few hundred miles north of the biggest earthquake on record in May 1960, which had a magnitude of 9.5 and killed between 2,200 and 5,700 people.
Experts said the quake, which struck off the coast and caused tsunami alerts in 53 Pacific-rim countries, was caused by the subduction of the Nazca plate beneath the South American plate. Chronology: Major quakes and tsunamis
US Secretary of State Hillary Clinton, who had planned a Latin America tour before the disaster struck, will visit Santiago on Tuesday and plans to meet both Bachelet and Pinera, officials said.
"We want to show America's support for the people of Chile while mindful of the realities on the ground," said Philippe Reines, the deputy assistant secretary of state, during a refueling stop in Puerto Rico.