BANGKOK, March 10, 2009 (AFP) - Rescuers resumed their search Tuesday for six foreign tourists and a Thai missing at sea after their boat sank in a storm off southern Thailand, police said.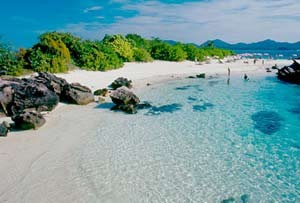 A beach in Phuket, Thailand
A 30-man team of marine police and volunteer rescue workers headed out early to search the area where the boat sank on its return from the Similan islands on Sunday.
The scuba diving vessel carrying 30 people, including 19 foreigners, was reported missing at about 11:00 pm (1600 GMT), about 20 kilometres (12.5 miles) west of the resort island of Phuket.
Marine police and navy rescued 23 passengers and crew on Monday afternoon but two Swiss nationals, two Austrians, one Japanese national, one German and a Thai crew member remain missing.
"We will do our best and still have high hopes (of rescuing them) although we have had no reports of anybody spotting them so far," Lieutenant Colonel Wallop Puangpaka, of Phuket marine police, told AFP.
But another senior official, who declined to be named, said the chance of the seven surviving was now slim as he suspected they were trapped inside the capsized boat.
A helicopter dispatched to search the area had failed to spot the seven divers on Monday, despite calm waters, he said.
"Now we are looking for specially-trained divers who can dive down to (the boat)," he said.
Police released the names of the seven missing as Japanese national Hirotsrga Yuba, Austrians Klaus Konradoer and Monika Schuster, Swiss divers Rolf Niederberge and Sibylle Bucher, German Gabrielle Jetzinger and Thai cook Sorntat Jumpa.
Phuket, Thailand's biggest island, is one of the kingdom's top tourist draws, with holidaymakers attracted by its white-sand beaches, plush resorts and spas, and clear blue seas popular with divers and watersports enthusiasts.