BANGKOK, May 1, 2009 (AFP) - Southeast Asian health ministers will meet next Friday to discuss a common regional approach to the swine flu threat, Thailand's public health ministry said.
It said Thailand would host two days of talks in Bangkok beginning May 7 with senior officials and academics, followed by a meeting of health ministers from the 10-member Association of Southeast Asian Nations (ASEAN) a day later.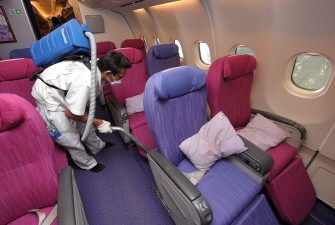 A Thai worker sprays chemicals to prevent the spread of swine flu in the passenger cabin of a Thai Airways aircraft at Suvarnabhumi International Airport in Bangkok on April 30 (AFP photo)
"Thailand will propose the idea of border and cross-border surveillance, information exchange, stockpiles and production of vaccines," the statement said, but gave no further details.
Prime Minister Abhisit Vejjajiva said the country would host the regional meeting "as best as we can" following the failure of a summit of Asian leaders last month when Thai anti-government protesters stormed the venue.
The meeting was abruptly cancelled, a state of emergency was declared and national leaders were urgently ferried out from the coastal resort of Pattaya on April 11 after security forces failed to stop the protests.
"We will be careful, we have to review our past experiences," Abhisit told reporters.
"We need to host this meeting. It is of benefit to the country."
Southeast Asia was badly hit by earlier viral outbreaks of SARS in 2003 and a deadly human strain of bird flu in 2004.
"This meeting will show the unity of ASEAN in fighting this flu," Abhisit said.
The city of Bangkok on Friday was to donate 100,000 face masks to taxi drivers and guesthouses to try to prevent the spread of the virus.
Thai authorities have installed thermal scanners at the main international airport, while imports of pork and related products from the United States and Mexico, the epicentre of the outbreak, have been banned.
Thailand has not had a confirmed human case of swine flu since the outbreak began.