A secular hardliner was elected mayor of Jerusalem in a vote, ending a five-year rule of an ultra-Orthodox mayor after a campaign that highlighted the Holy City's deep divisions.
Nir Barkat won 52 percent, while his ultra-Orthodox rival Rabbi Meir Porush garnered 43 percent in the Jerusalem race Tuesday that drew the most attention in the municipal elections across Israel.
Russian-Israeli billionaire Arcady Gaydamak trailed behind with 3.6 percent, with the fourth candidate, Dan Biran, winning one percent, according to the full count of the votes released early Wednesday.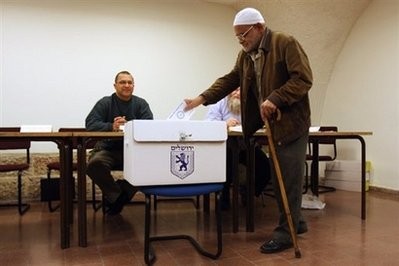 A Palestinian from Jerusalem casts his vote in the citys municipal elections.
The polls held across Israel were seen as a test of strength ahead of the Jewish state's February 10 parliamentary elections.
Although candidates of the ruling centrist Kadima party, led by Foreign Minister Tzipi Livni, won some 50 of the more than 150 local councils, the vote saw a sharp rise in support for environmentalist parties across the country.
Barkat, like all four mayoral candidates, campaigned on a hardline ticket rejecting any future concessions of parts of occupied and annexed east Jerusalem to the Palestinians as part of a future peace deal.
"Tonight Jerusalem has won, tonight Israel has won, tonight the Jewish people have won," Barkat told supporters in his pre-dawn victory speech at his campaign headquarters.
"This victory belongs to all those who love and appreciate our incredible city, the eternal capital of the Jewish people."
A former member of outgoing Prime Minister Ehud Olmert's Kadima party, Barkat prides himself on having quit the centrist party after "exposing" vice premier Haim Ramon's "plan to divide Jerusalem."
"Jerusalem has to stay unified," he has told AFP. Barkat's hardline stance won him the backing of the city's religious right-wing parties which represent a hefty part of the city's population of 700,000.
In Arab east Jerusalem, home to some 250,000 Palestinians, numerous businesses went on strike in an electoral boycott and to protest Sunday's expulsion of a Palestinian family forced out of their home of 52 years following a lengthy court battle with Jewish settlers.
Police said seven people who tried to enforce the strike were arrested.
Palestinians have boycotted the elections since Israel captured east Jerusalem in the 1967 Six-Day War and later annexed it in a move not recognised by the international community.
Israel's controversial West Bank barrier runs through the heart of several of east Jerusalem's most densely populated Palestinian neighbourhoods, cutting off tens of thousands of Palestinians from local services.
The victory of the 49-year-old self-made millionaire ends a five-year rule of ultra-Orthodox Mayor Uri Lupolianski and highlights the growing rift between religious and secular Jews in Israel's poorest city.
Barkat will also have to tackle the rapid decline in the number of young Israelis living in Jerusalem and a growing fiscal deficit of the city, where over one third of the population lives below the poverty line.
The leading candidates have promised legislation to attract companies, especially from the country's large computer industry, and young families to Jerusalem.