UNITED NATIONS, Dec 27, 2008 (AFP) - The UN Security Council went into emergency consultations late Saturday to discuss a Libyan call for an immediate halt to Israeli air strikes on the Gaza Strip in retaliation for rocket attacks.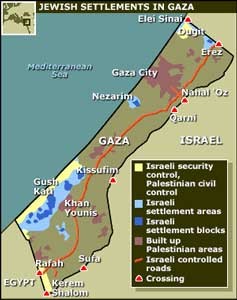 A Gaza strip map
The council's 15 envoys huddled behind closed doors to first decide whether to hold a formal meeting on the Israeli air raids that have killed at least 230 people in Gaza.
"Our main objective is an immediate ceasefire," said Ibrahim Dabbashi, Libya's deputy ambassador to the UN, whose country is the lone Arab member of the council.
He said his delegation called the emergency meeting "in coordination with the UN Arab group" in the wake of the deadly Israeli air raids on Gaza.
Earlier in the day, Israeli warplanes hammered targets of the Islamist movement Hamas in Gaza in retaliation for rocket fire, killing at least 230 people in one of the bloodiest days of the decades-long Middle East conflict.
"We intend to get a (non-binding) presidential statement (from the 15-member council)," Dabbashi told AFP. "There has to be a cessation of hostilities as soon as possible."
Ryad Mansour, the Palestinian observer to the UN, echoed that view, describing the Israeli strikes as 'a threat to international peace and security...that needs to be stopped immediately."
But in a letter to the current president of the Security Council, Croatian Ambassador Neven Jurica, Israeli Ambassador Gabriela Shalev argued that her country was acting in self-defense.
"No country would allow continuous rocketing of its civilian population without taking the necessary actions to stop it. Israel expects the understanding and support of the international community to its actions," she added.
She insisted that Hamas "holds the sole responsibility for the latest events in Gaza."
The United States, Israel's main ally and a veto-wielding member of the Security Council, agreed.
"If Hamas stops firing rockets into Israel, then Israel would not have a need for strikes in Gaza," White House spokesman Gordon Johndroe told reporters. "What we've got to see is Hamas stop firing rockets into Israel."
US Secretary of State Condoleezza Rice expressed deep concern about the escalating violence in Gaza.
"We strongly condemn the repeated rocket and mortar attacks against Israel and hold Hamas responsible for breaking the ceasefire and for the renewal of violence there. The ceasefire must be restored immediately and fully respected," she said.
UN chief Ban Ki-moon said he was "deeply alarmed" by the bloodshed in Gaza and appealed for "an immediate halt to all violence."
"There is no justification for slaughtering hundreds of Palestinian civlians," Mansour said. But he also spoke against the killings of civilians "whether they are on the Palestinian side or the Israeli side."
It was unclear whether the United States would support the proposed Libyan statement, which requires approval by all 15 members to be adopted.
Meanwhile Israeli Defense Minister Ehud Barak said "Operation Cast Lead" against Hamas, which has also left some 700 wounded, will continue "as long as necessary."
"The battle will be long and difficult, but the time has come to act and to fight," he added.
And in Damascus, exiled Hamas leader Khaled Meshaal called for a new Palestinian intifada, or uprising, against Israel and promised new suicide attacks.
Hamas has not carried out a suicide attack in Israel since January 2005.
Meshaal said that for there to be any talks with the people of Gaza, "the blockade must be lifted and the crossings (from Israel) opened... notably that in Rafah," which leads to Egypt.
Israel imposed a blockade after Hamas seized power in Gaza last year, but let in dozens of truckloads of humanitarian aid on Friday.