The UN Security Council voted late Thursday to call for an "immediate, durable" ceasefire in the Gaza Strip leading to a "full withdrawal" of Israeli troops in a bid to bolster peace efforts in the region.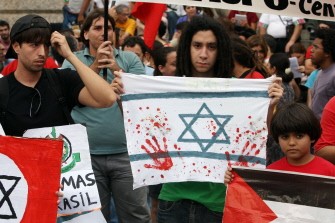 Pro-Palestine supporters take part in a demonstration against Israel's military offensive in the Gaza Strip, in front of the US Consulate in Rio de Janeiro on January 8, 2009. (AFP Photo)
Fourteen of the council's 15 members voted in favor of a compromise resolution worked out in three days of intense bargaining involving several Arab foreign ministers, US Secretary of State Condoleezza Rice, British Foreign Secretary David Miliband and French Foreign Minister Bernard Kouchner.
Resolution 1860 "stresses the urgency of and calls for an immediate, durable and fully respected ceasefire, leading to the full withdrawal of Israeli forces from Gaza."
It "calls for the unimpeded provision and distribution throughout Gaza of humanitarian assistance, including of food, fuel and medical treatment" and welcomes initiatives aimed at "creating and opening humanitarian corridors and other mechanisms for the sustained delivery of humanitarian aid."
And it also "condemns all violence and hostilities directed against civilians and all acts of terrorism" and urged member states to intensify efforts for arrangements and guarantees in Gaza "to sustain a durable ceasefire and calm, including to prevent illicit trafficking in arms and ammunition and to ensure the reopening of the crossing points (into Gaza)."
The British-drafted text "welcomes the Egyptian initiative (the three-point truce proposal unveiled by Egyptian President Hosni Mubarak Tuesday) and other regional and international efforts that are under way."
Mubarak invited Israel and the Palestinians to Cairo for talks on conditions of a truce, on securing Gaza borders, reopening of its crossings and lifting the Israeli blockade on the Palestinian enclave.
The US abstention vote cast by Rice came as a surprise; diplomats indicated earlier that they expected the text to get unanimous support.
Explaining the abstention, the US chief diplomat said her country, Israel's main ally, "thought it important to see the outcome of the Egyptian mediation efforts in order to see what this resolution might have been supporting."
"And that is why we chose to abstain tonight," she added. "But after a great deal of consideration we decided that this resolution, the text of which we support, the goal of which we support and the objectives that we fully support should indeed be allowed to go forward."
"I believe in doing so, the Council has provided a roadmap for a sustainable, durable peace in Gaza," Rice noted.
Palestinian foreign minister Riyad al-Malki expressed fear that "Israel will delay the implementation of the ceasefire for a few hours, if not a few days" and that there might "more vicious Israeli attacks."
Arab League chief Amr Mussa welcomed adoption of the resolution, particularly the fact that "there was no American veto."
"The important thing is for Israel to respect and implement the will of the international community," he added.
But Israel's UN Ambassador Gabriela Shalev countered that her country had acted in self-defense after eight years of rocket attacks by Hamas militants in Gaza.
The vote capped a day of high drama in which Arab foreign ministers had threatened to put their own tougher truce draft to a vote by the council if a compromise deal could not be found.
Arab ministers were under intense pressure from their public opinion to secure an immediate end to Israel's 13-day military onslaught in Gaza that has killed nearly 768 Palestinians.
Speaking before the vote, Miliband, who played a key role in securing the compromise with the Arab ministers, told reporters: "It's very significant that over the last three days we should have built genuine consensus on the details of a strong resolution, which calls for an immediate, durable and fully respected ceasefire."
"We are all very conscious that peace is made on the ground while resolutions are written in the United Nations," he added. "Our job here is to support the efforts for peace on the ground and to help turn the good words on paper into changes on the ground that are desperately needed."