Nearly 200 countries were gathering on Monday under the UN flag and behind tight security for a fresh attempt to craft a treaty to roll back the threat of climate change.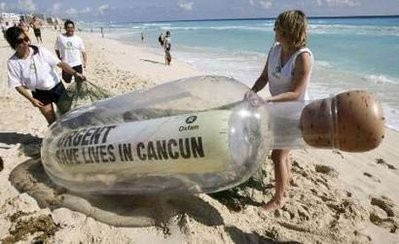 Activists of Oxfam carry a giant bottle on the shores of a beach in Cancun November 28, 2010. The bottle contains a message reading Urgent: "Save Lives in Cancun", in reference to millions of world's poorest people.
Mexican police and troops, supported by navy patrol boats, threw a cordon around the Moon Palace hotel, a beachfront complex near the eastern resort city of Cancun.
Opening ceremonies were to include an address by President Felipe Calderon, who has declared war on Mexico's powerful drug cartels.
The 12-day talks are seen in many quarters as the last chance for the UN Framework Convention on Climate Change (UNFCCC) to restore faith in a process battered by finger-pointing and nit-picking.
It comes almost a year to the day since a near-disastrous summit in Copenhagen where leaders were supposed to deliver a post-2012 pact on reducing greenhouse gas emissions and on channelling billions in aid to poor countries.
Instead, it gave birth to a face-saving compromise, cobbled together by a couple of dozen leaders in the final hours of the summit but lacerated by green campaigners and activists for the poor as a fudge.
The trauma of Copenhagen, coupled to economic crisis, has caused climate change to almost disappear off the political radar screen as a result.
In the UNFCCC, meanwhile, negotiations have switched from a big vision to securing visible progress in small, practical steps.
"Perhaps the most important thing we learnt from Copenhagen is that there is no miraculous agreement which is going to resolve the problem of climate change," UNFCCC Executive Secretary Christiana Figueres said on Sunday.
"Quite simply, it (the one-off agreement) does not exist."
Campaign groups say that even if many politicians seem to have tiptoed away from climate change as an issue, the public has not.
"There is a huge global movement of people demanding a low-carbon future and sending a clear signal that politicians have a mandate to take the bold steps needed to tackle climate change," said Paul Horsman, head of the grassroots TckTckTck Campaign.
"Cancun is about building momentum and trust," said Wendel Trio of Greenpeace.
"Governments here have a choice. They can either listen to the growing business voice calling for action and take some key steps that will set the world on a pathway to a clean energy future -- or they can be limited by the fossil fuel industry and accept the ravages of climate change."
The head of the UN's climate science panel, Rajendra Pachauri, was to give a keynote address on Monday, spelling out evidence for global warming and its impacts.
In research published this year, climate scientists determined that atmospheric concentrations of carbon dioxide (CO2), the main greenhouse gas, have scaled record levels.
Surging emissions by China, the world's No. 1 carbon polluter, largely offset falls in the United States, No. 2 in the rankings, and other advanced economies.
By 2100, global average surface temperatures could rise by between 1.1 C and 6.4 C (1.98 and 11.52 F) compared to 1980-99 levels, according to the UN's Intergovernment Panel on Climate Change (IPCC).
Within this range, common "best estimates" run from 2.4 C (4.3 F) for a scenario based on a major switch to non-fossil fuels to 4.0 C (7.8 F) for a fossil-fuel intensive economy.