Three top US senators slammed President George W. Bush's plan to send 21,000 extra troops to Iraq in a resolution warning the strategy was "not in the national interest of the United States."
The bipartisan resolution proposed by Democrats Carl Levin and Joseph Biden -- both of whom head powerful senate committees -- and outspoken Republican Iraq war critic Chuck Hagel, is seen as a serious challenge to the administration's Iraq policy even though it is non-binding.
"US strategy and presence on the ground in Iraq can only be sustained with the support of the American people and bipartisan support from Congress," Biden, head of the Senate Foreign Relations Committee, told a press conference.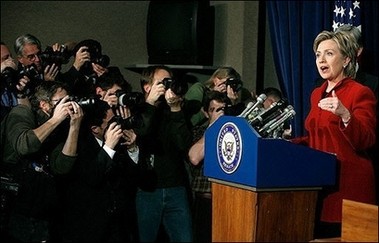 US Democratic Senator Hillary Rodham Clinton from New York holds a press conference on Iraq on Capitol Hill in Washington, DC.
"Support is not there for the president's policy in Iraq. The sooner he recognizes that reality and acts upon it, the better off all of us will be."
But Bush reiterated again that he intends to press ahead with his plan, unveiled a week ago, with or without Congress support.
"At this point, the president has obligations as a commander in chief. And he will go ahead and execute them," his spokesman Tony Snow said.
The draft resolution called on the US to "transfer, under an appropriately expedited timeline, responsibility for internal security and halting sectarian violence in Iraq to the government of Iraq and Iraqi security forces."
The product of days of bipartisan wrangling, the bill also called on the US administration to "engage nations in the Middle East to develop a regional, internationally-sponsored peace and reconciliation process for Iraq."
It also urged Iraqi leaders to lead the way in reaching a political settlement that could lead to peace.
"Congress does not support the plan for escalation because it is based on the false premise that there is a military solution to the violence and instability in Iraq, when what is needed is a political solution among the Iraqi leaders and factions," Levin, head of the Armed Services Committee, said.
New York Senator Hillary Clinton, fresh from a tour of Iraq, also blasted Bush's plan, saying it would not stem the raging sectarian violence.
In the latest unrest in Iraq, a US aid worker was one of three foreigners killed during a Baghdad ambush as bombers again hit the capital's volatile Shiite district of Sadr City, killing 15 people.
"I do not think that this strategy has a very high level of success at all attached to it. In fact, I think that at best, it's a holding pattern," Clinton -- who is considered a likely, though as yet unannounced 2008 White House contender -- said in an interview with NBC television.
Clinton, whose travels also took her to Afghanistan, said she would send a letter to US Defense Secretary Robert Gates, insisting that the unrest in Afghanistan should be given a higher US priority.
"Let's focus on Afghanistan and get it right. We still have a chance to do that," she told CBS television in a separate interview.
She added the president needed to get tougher with the government of Iraqi Prime Minister Nuri al-Maliki.
Various Democrats have turned the heat up on Bush since he unveiled his Iraq plans a week ago, proposing bills ranging from limiting funds for the war effort to withdrawing the president's authority to wage war in Iraq.
In the Senate, Democrat Christopher Dodd introduced a bill that would require congressional approval for any increase in US troops in Iraq, and which would cap the number at 130,000.
But Bush spokesman said such a measure would be "a pretty extreme move."
"It binds the hands of the commander-in-chief and also the generals, and, frankly, also the troops on the ground," Snow added.
Senior Democratic Senator Ted Kennedy last week submitted draft legislation requiring Bush to get congressional approval before receiving additional funding for troops in Iraq.
And in the House, liberal Democrats Lynn Woolsey, Barbara Lee and Maxine Waters introduced a bill calling for a full withdrawal of US forces from Iraq within six months.
Their bill, dubbed "The Bring the Troops Home and Iraq Sovereignty Restoration Act," would repeal congressional authorization for the use of force in Iraq.