Senior Libyan officials were in a convoy that fled into Niger, but toppled Libyan strongman Moamer Kadhafi was not believed to be among them, the US State Department said Tuesday.
The large convoy of civilian and military vehicles entered Niger from Libya late Monday and drove through the city of Agadez, raising questions about whether Kadhafi had fled the country with them.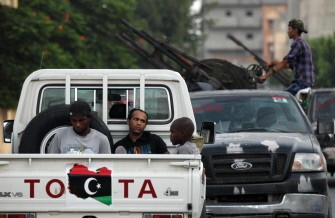 National Transitional Council (NTC) fighters guard prisoners suspected of belonging to a Khadhafi underground group during a raid in Tripoli's flashpoint Abu Slim neighborhood on September 6, 2011
State Department spokeswoman Victoria Nuland said senior officials of the ousted regime were in the convoy, but added: "We do not believe that Kadhafi himself was among them."
The Libyan strongman has not been seen since rebels stormed Tripoli on August 20, although as recently as last Thursday he aired audio messages calling on his supporters to prepare for guerrilla war.
"We don't have any evidence that Kadhafi is anywhere but in Libya at the moment," Nuland said. She said she had no information about other members of his family.
Nuland urged the Niger government to arrest any Libyan officials in the group who might be sought by international authorities for human rights violations or other crimes.
"We have strongly urged the Nigeren officials to detain those members of the regime who may be subject to prosecution, to ensure that they confiscate any weapons that are found, and to ensure that any state property of the government of Libya -- money, jewels, etc. -- also be impounded so that it can be returned to the Libyan people," she said.
She called on Niger to cooperate with the NTC, the National Transitional Council -- the rebel fighters who overthrew Kadhafi last month and who now rule the country -- in bringing potential Libyan war criminals to justice.
"Our understanding is that the government of Niger wants to be responsive to the international community and wants to maintain a good working relationship with the Libyan people" as well as with the rebels, the State Department spokeswoman said.
"Let's let them speak for what they plan to do as this convoy comes to their capital," said Nuland.