The administrative chief of Seongju on Monday formally asked the defense ministry to designate an alternate site within the county for the deployment of the advanced U.S. antimissile system, instead of the original location picked by Seoul last month, sources from Yonhap.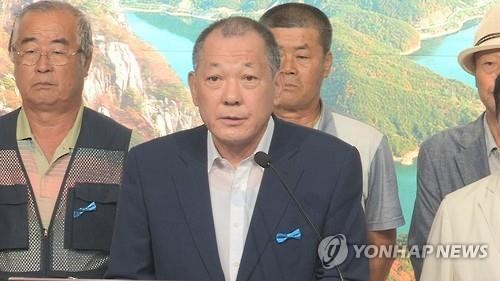 Kim Hang-gon, the administrative chief of Seongju County, North Gyeongsang Province, speaks during a press conference in his county's office building on Aug. 22, 2016. (Yonhap)
During a press conference, Kim Hang-gon cited recent poll results that found a "vast majority" of Seongju residents wanted the Terminal High Altitude Area Defense (THAAD) system to be stationed in a new site rather than occupy the anti-aircraft missile base operated by South Korea's military. Seoul and Washington on July 13 said the site of the existing Seongsan battery is ideal for countering growing missile and nuclear threats from North Korea.
"I hope that the defense ministry picks a proper alternate site (for THAAD) that excludes the Seongsan (anti-aircraft) base," he said, noting that he felt that opposing the THAAD deployment without suggesting an alternative would not lead to a fundamental resolution of the issue.
"Security is the cornerstone that props up the nation, and citizens cannot exist without a nation," he added.
An area near the Lotte Skyhill Golf Course in northern Seongju has been emerging as a likely alternate site, especially since military officials view other sites suggested by residents in the past as being unsuitable due to the mountainous terrain and lack of roads that can make deployment difficult by the end of 2017.
Before the press conference, some Seongju residents scuffled with the police while expressing their vehement opposition to any decision to station a THAAD battery in any part of the county.
The opponents have been concerned that THAAD's powerful radar could pose health risks and hurt their crops. They also argue that the military asset could undermine the county's peaceful ambiance, and that the county could turn into a military target in case of an armed conflict on the peninsula.
Meanwhile, Defense Minister Han Min-koo plans to brief ruling Saenuri Party leader Lee Jung-hyun on the THAAD deployment issue during a closed-door meeting at the National Assembly in the afternoon, a party official told Yonhap News Agency, declining to be identified.