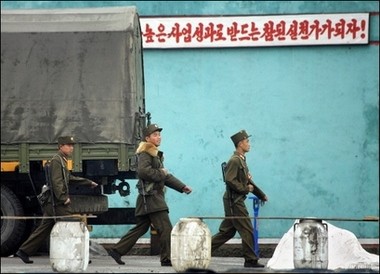 North Korean soldiers pass a slogan on a wall in Sinuiju, North Korea
South Korea's top minister handling relations with North Korea has announced his resignation, as Seoul's conciliatory policy towards its nuclear-armed neighbour came in for increasing criticism.
Unification Minister Lee Jong-Seok is the second top minister in three days to quit, after defense minister Yoon Kwang-Ung. The resignations come just over two weeks after North Korea shocked the world with its first nuclear test.
"I told the president (Roh Moo-Hyun) that I would step down and the president said he would accept it," Lee told reporters.
He insisted the government will not drop its "sunshine" policy of engagement with its communist neighbour, which he said had eased tensions.
"My resignation must not be interpreted as any change in the government's policy (towards North Korea)," Lee said. "The president's philosophy is firm and clear. He will maintain the principle and basis of his policy."
Two inter-Korean projects funded by the South -- the Kaesong industrial estate and the Mount Kumgang tourist resort -- have come under fire domestically as a potential source of cash for the North's missile and nuclear programs. They have earned the North almost one billion dollars since 1998.
"The engagement policy has substantially reduced tensions between South and North Korea. And the two projects have played a key role," Lee said. "We should go ahead with the two projects for a while."
The government says it will not scrap Kaesong or Kumgang but may modify them.
US Assistant Secretary of State Christopher Hill, Washington's main negotiator with Pyongyang, has questioned Kumgang as seemingly "designed to give money to the North Korean authorities."
But he has said Kaesong was "trying to deal with a longer-term issue of economic reform" in the hardline state.
Newspapers and conservative groups in Seoul have strongly criticised the "sunshine" policy, with some terming it appeasement.
Some 73 percent of South Koreans say the policy should be revised, while about 15 percent want economic ties snapped altogether and 10 percent want no change, according to a telephone survey of 800 respondents last week.
Lee Nae-Young, a Korea University political science professor, told AFP people feel betrayed by the test and more people see the North's nuclear program as a serious threat.
"But they are now also in confusion. They now have dual perceptions, regarding North Korea as an enemy which poses a security threat and at the same as their brother to be united some day.
"Many people do not support strong sanctions or military means that could trigger a conflict on the Korean peninsula."
Minister Lee, whose resignation takes effect in about three weeks, said he expects a change in the president's foreign policy and security teams soon.
Kim Keun-Sik, professor at the University of North Korean Studies, said the ministers were being replaced mainly because they had served for a long time, "although it is also aimed at deflecting criticism about the government's North Korea policy following the nuclear test.
"But it does not mean there will be any significant changes to the government's policy of reconciliation and exchanges with the North. Their replacements will probably be composed of policymakers from a similar political spectrum," he told AFP.
Foreign Minister Ban Ki-Moon is soon to become secretary-general of the United Nations. Song Min-Soon, chief presidential security aide, and Vice Foreign Minister Yu Myung-Hwan are seen as strong candidates to replace him.
Yonhap news agency has said defence minister Yoon could replace Song or head the main spy agency, the National Intelligence Service.