BRUSSELS, Sept 28, 2011 (AFP) - EU-brokered talks between Belgrade and Pristina were delayed for the second day running on Wednesday after fresh violence on the disputed Serbia-Kosovo border left four NATO troops and six Serb protesters wounded.
Delegations from the two sides postponed the start of talks Tuesday and failed to gather together on Wednesday morning, as scheduled, for a sixth round of negotiations that began in March, an EU diplomat said.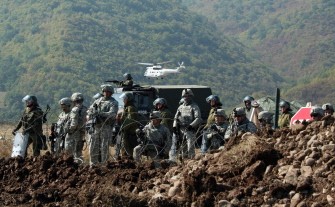 AFP - US Army and German KFOR soldiers guard the border crossing between Serbia and northern Kosovo in Jarinje on September 27, 2011.
Senior EU diplomat Robert Cooper, who is mediating the talks, was trying to get officials from both sides to return to the negotiating table.
The EU-sponsored dialogue is aimed at resolving practical problems caused by Serbia's refusal to recognise Kosovo's independence and is seen as key to efforts move closer to the 27-nation European Union.
The NATO-led KFOR troops in Kosovo said Wednesday that the situation in northern Kosovo was calm for the moment.
"We had a calm night. The situation has returned to normal," the deputy spokesman of NATO's KFOR peacekeeping mission Kai Gudenoge told AFP in Pristina.
The ethnic Albanian government in Pristina issued a statement strongly condemning the violence and stressing its "commitment to the full establishment of the rule of law" in the north.
It urged Kosovo Serbs in the north "to have confidence in the legitimate institutions of Kosovo"and not be "held hostage by criminal structures".
The majority Serb population of northern Kosovo has always refused to recognise Pristina's 2008 declaration of independence from Serbia and does not accept the ethnic Albanian government.
Belgrade officially still treats Kosovo as one of its provinces and in northern Kosovo they maintain a parallel Serb administration with its own municipalities, courts, schools and hospitals.
The region, right on the border between Kosovo and Serbia proper, has always been a flashpoint of ethnic tensions but recently the dispute over control of the border has flared as Pristina and Belgrade moved to settle a long-running trade row.
The latest unrest started early Tuesday as KFOR moved to dismantle one of the main Serb roadblocks near the crossing of Jarinje on the border with Serbia.
Serb protesters threw stones and pipe bombs at the peacekeepers who responded with firing tear gas into the crowd and rubber bullets.