Serbian-American author Tea Obreht became the youngest ever winner of Britain's prestigious Orange Prize for Fiction for her novel The Tiger's Wife.
The 25-year-old, born in Belgrade, accepted the £30,000 ($49,100, 33,700 euros) prize at a ceremony at London's Royal Festival Hall.
"It is a tremendous honour," the author said after picking up the award. "I was stunned and I did not expect it and I did not prepare anything. I'm really still not processing it."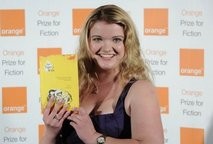 Award-nominated author Tea Obreht poses with her book The Tiger's Wife at the Orange
The Tiger's Wife, Obreht's debut novel, tells the story of a young doctor inspired by her grandfather's stories to embark on a journey through the war-torn nations of the former Yugoslavia.
Obreht, who now lives in the US, said she hoped the novel painted a "fairer picture" of the Balkan war.
"I'm really happy that it will be translated into Serbo-Croatian which means my grandmother, who does not speak any English and has never read any of my books will be able to read it."
The Orange award is presented annually to a female author for the best novel written in English. Previous winners include Lionel Shriver and Zadie Smith.
Historian Bettany Hughes, who chaired the four-woman judges panel, said Obreht was "a truly exciting new talent".
"This is a fiction prize and what this book does is celebrate the power of storytelling," she added.
Obreht left Belgrade in 1992 when the region descended into civil war and moved to the United States in 1997