A bomb killed seven people on an Afghanistan bus Wednesday, the latest in a string of attacks linked to an insurgency that Washington hopes to reverse with a strategy likely to be unveiled in days.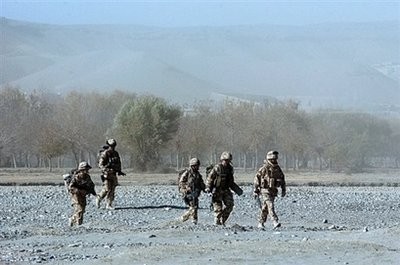 File photo shows British soldiers with the NATO-led International Security Assistance Force (ISAF) on patrol in Helmand Province. (AFP Photo)
The blast occurred in the eastern province of Khost, which has seen a series of attacks over the past week, including a bombing at a New Year's Day gathering at the weekend that killed two men.
"There was an IED (improvised explosive device) planted by the enemies of the people of Afghanistan that hit the vehicle," interior ministry spokesman Zemarai Bashary told AFP.
"As a result seven civilians, including a woman, were killed and nine other civilians wounded," he said of the blast about 20 kilometres (10 miles) outside the city of Khost.
Militant attacks and military raids have picked up in recent weeks with the arrival of spring, which has traditionally seen a surge in violence during Afghanistan's long years of conflict.
Afghans had hoped the ouster of the hardline Taliban regime from power in late 2001 would herald the end of three decades of war, which sent roughly eight million people into exile and left millions more dead or wounded.
But an insurgency led by Taliban militants has thwarted dreams of stability, with the violence peaking last year to leave nearly 2,200 civilians dead, most of them in attacks of Taliban and US troops .
US President Barack Obama has switched the focus of the "war on terror" from Iraq to Afghanistan and ordered 17,000 more US troops for Afghanistan, where there are already about 75,000 soldiers under US and NATO command.
He is also preparing to roll out a new strategy for the embattled nation, expected to be unveiled at an international meeting on Afghanistan in the Netherlands on March 31.
Afghan President Hamid Karzai is due to attend, along with US Secretary of State Hillary Clinton and UN Secretary General Ban Ki-moon.
Obama said Tuesday that the strategy would be more "focused," "disciplined" and "comprehensive" than the previous US anti-terror effort.