SHANGHAI, Nov 16, 2010 (AFP) - The death toll from a huge fire that engulfed a high-rise building in Shanghai rose to 53 on Tuesday as anxious relatives searched desperately for news of missing loved ones.
The blaze raged for several hours on Monday, causing panicked residents to jump from the inferno or seek refuge on rickety construction scaffolding surrounding the building as thick smoke spread above China's commercial hub.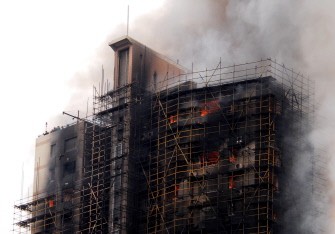 This photo taken on November 15, 2010 shows a huge fire engulfing a high-rise in Shanghai. AFP
Police detained four people on Tuesday in connection with the blaze, the official Xinhua news agency reported, adding that an initial investigation blamed the fire on unlicensed welders.
"I've been waiting since last night. I don't know when I can see my mother," Yang Bo, 32, told AFP, after scouring hospitals in the area for his 65-year-old mother.
Yang had sped to the city from neighbouring Jiangsu province after hearing of the fire on Monday.
He said he was joined by angry crowds at each hospital, where relatives demanded information about their loved ones but were turned away from morgues, with officials saying they must first obtain government permission to enter.
The 28-storey building -- in one of the most densely populated districts of the city of nearly 20 million people -- was under renovation when the fire broke out mid-afternoon.
Bright orange flames enveloped the scaffolding and spread to the building, gutting much of the structure.
Photos published by state media showed residents clinging to the scaffolding to escape the flames.
Hu Zhenqing, 60, who lived on the 20th floor, told the Global Times newspaper that he heard several desperate cries as he and his wife fled the building.
"It was gut wrenching -- then we saw a woman jump from high above. We didn't see where she landed, but I don't think she made it," Hu said.
At least 53 people died and 70 were being treated for injuries, the official Xinhua news agency said.
The government would thoroughly investigate the fire and punish anyone responsible, Public Security Minister Meng Jianzhu was quoted by Xinhua as saying.
There has not yet been any official comment on possible causes of the blaze.
A resident of the block, identified only by her surname Zhao, told Xinhua she had filed complaints about construction workers dropping cigarette butts around the building, which was wrapped in construction sheeting.
"Such a horrible scene belongs in novels, not real life. I could hardly believe my eyes," she said.
The building was an apartment block for teachers, according to state media reports, which said most were retired.
Yang Bo wound up looking for his mother Tuesday at an indoor sports centre being used as a temporary evacuation site for residents of the building and adjacent structures.
Relatives crowded around lists of the missing and hospitalised that were posted on walls at the evacuation centre. The "missing" list said the whereabouts of people from at least 50 apartments remained unknown.
"All the staff here ask me to wait. How long should I wait?" Yang said.
A total of 156 families lived in the building, municipal officials said in a statement. Residents told AFP the renovations had begun only recently and most inhabitants were still living in the building.
Deadly fires are common in China due to lax observation and enforcement of fire safety measures.
Some suggested there was a gulf in safety standards between residential buildings and the city's glittering commercial skyscrapers.
"If it was Jinmao Tower or Shanghai World Financial Centre, I don't think it would have kept burning for so long," Pan Ding, who lives adjacent to the now-gutted building, told the China Daily, naming Shanghai's two tallest towers.
"The fire would have been extinguished in half an hour," he said.